Pommes frites is not just a fancy way of saying "French fries." There's also a difference in how they are prepared. French fries are fried once while pommes frites are double-fried (first to cook the inside and then to crisp the outside). In the case of these pommes frites they are also double-cooked but in a healthier way as they are first boiled and then baked.
I love French fries but work hard at staying away from them in restaurants as I can't eat just one and I prefer not to eat fried foods. These potatoes are crispy on the outside while the inside is that perfect potato fluffiness. Think of the best steak fry you've ever had – a perfect balance of crispiness and creamy potato flesh inside. Note that these small potatoes (once smashed) take on more of a circular shape than a long think French fry shape.
These yummy potatoes are great on their own but are also perfect for dipping. Given their European origin I prefer to serve them with a mayonnaise-based sauce rather than ketchup. Here I've mixed mayo, mustard, garlic, capers and lemon (zest and juice). This sauce also goes well over asparagus.
Where did "French fries" get their name? As one story goes sometime during World War I, either an American or British soldier eating fried potatoes in Belgium erroneously named them French fries since French was (and is) one of the official languages of Belgium. "Pommes frites" means "fried potato" in French.
I highly recommend you make more than you think you may need – I promise you will not be disappointed.
New to Riegl Palate: I've just joined Yummly. Their mission is to be the world's largest, most powerful and most helpful food site in the world. If you're a part of Yummly, you can now use the "YUM" button for any of my recipes and it will be added to your personal Yummly recipe box. You can check out Riegl Palate's page on Yummly.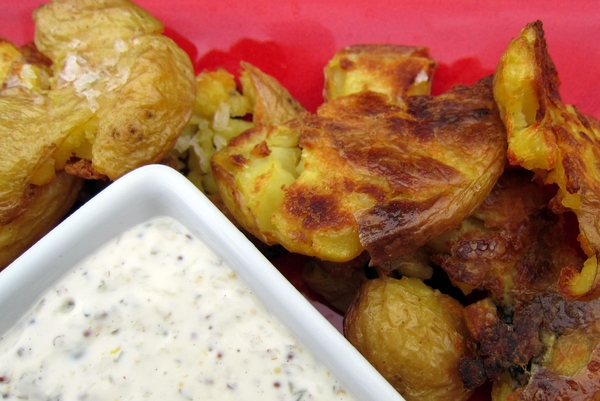 | | | |
| --- | --- | --- |
| Healthy Pommes Frites | | Print |
Ingredients
1-1/2 pounds baby gold potatoes
olive oil
flaky sea salt (such as Maldon)
½ cup mayonnaise
2 small cloves of garlic, minced
2 tablespoons capers, not rinsed and chopped
1 tablespoon whole grain Dijon mustard
zest from 1 lemon
2 tablespoons fresh lemon juice (from ~ 1 lemon)
Freshly ground black pepper
Instructions
Preheat oven to 450°F.
Steam potatoes on top of the stove for 20 to 25 minutes. They are done when you can easily pierce them with a fork.
Line two cookie sheets with aluminum foil. Using a spray bottle with olive oil or olive oil with a brush grease the aluminum foil. Place a potato on the foil and gently smash it with a fork – pressing it down to a thickness of less than an inch. Repeat for the rest of the potatoes.
Spray or brush oil over the smashed potatoes. Sprinkle with salt.
Place on cookie sheets in the oven. Roast until the exteriors are golden and crunchy, approximately 20 to 25 minutes. Switch sheets halfway through if using two different oven racks.
While potatoes are cooking put all ingredients for the sauce in a bowl and whisk well. Sauce can be made a few hours in advance.
Serve potatoes straight from the oven with sauce.
Notes
* Steaming the potatoes is preferred over boiling them as they are less "wet." If you do boil them dry them before smashing them.
* You may have leftover dipping sauce. It's great over vegetables like asparagus.
* From start to finish it takes about an hour – most of which is cooking time.
Adapted from:  Sam Sifton's "Freedom from Fries" in
The New York Times
(May 14, 2014)