Hemingway or Fitzgerald? We are a split house when it comes to their respective writing but we both agreed that this is a tasty drink. Hemingway is known for heading from his home in Key West, Florida to Havana, Cuba on a regular basis and while there enjoying a daiquiri (or two or three) at El Floridita. This daiquiri is so named for him by that bar as it was said to be one of his most favorite variations of the classic daiquiri (rum, lime, sugar and ice).
I've read a few places recently that a well-stocked bar should have a bottle of maraschino liqueur so this recipe provided the perfect excuse to procure some. I used Luxardo Maraschino which is readily available. Despite what you might think the liqueur is a clear color and bears no resemblance to the color (or flavor) of a maraschino cherry.
This is the time of year when citrus really shines – it's great gift from the warmer climates. So gather some fresh grapefruits (any color will work) and limes for this drink and ponder about what life must have been like back in Hemingway's day when you could just hop on a boat to Cuba.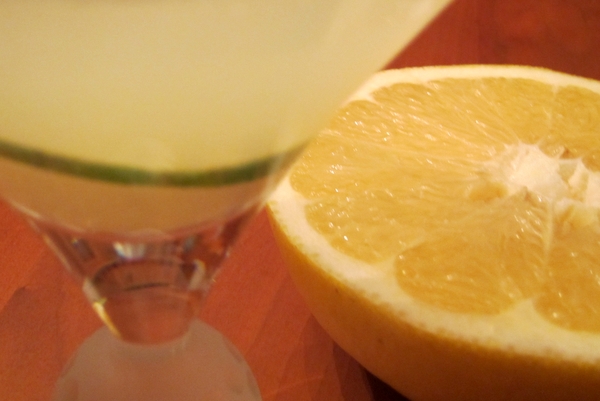 Ingredients
1-1/2 ounces fresh lime juice (~ 2 limes)
1 ounce fresh grapefruit juice
4 ounces light rum (silver or white)
1 ounce maraschino liqueur
Lime wheel (for garnish)
Instructions
Freshly squeeze both the lime and grapefruit juices.
In a cocktail shaker, stir lime juice and grapefruit juice.
Fill shaker half way with ice.
Add rum and maraschino liqueur and shake.
Strain into a chilled martini or coupe glass.
Serve each with a wheel lime slice