Who grew up thinking Boursin cheese was about the fanciest cheese around? Back before we were obsessed with artisan cheeses this garlic and herb cheese from France was often served for special occasions. Boursin cheese was created by François Boursin in Normandy, France in 1957. It was a take on a French party dish where herbs were added to fresh cheese. It went on to become the first flavored cheese to be sold nationally in France.
Think of this as a more modern and healthier version of Boursin. Here the base is Greek yogurt that has been drained (ideally overnight) so that it's quite thick and more cream cheese-like. It then becomes a palate for whatever fresh herbs you want to add. I used a mixture of basil, tarragon and thyme and added garlic and lemon zest. Once you've mixed it all together refrigerate the cheese for about an hour so that the flavors can blend. Add some crackers or baguette slices and you're good to go. A healthy and easy to make appetizer.
Like Boursin that now comes in a variety of flavors, you could add anything you want to this yogurt base. It's perfect for summer gardens – especially ones full of herbs.
I love Tia Kennan's nostalgic take on this classic cheese:  How Boursin Cheese Taught Me What Cheese Could Be.
Photo: This cheese is sitting atop a bed of thyme. I planted it last summer and it not only survived the winter but grew back bigger and bushier than ever.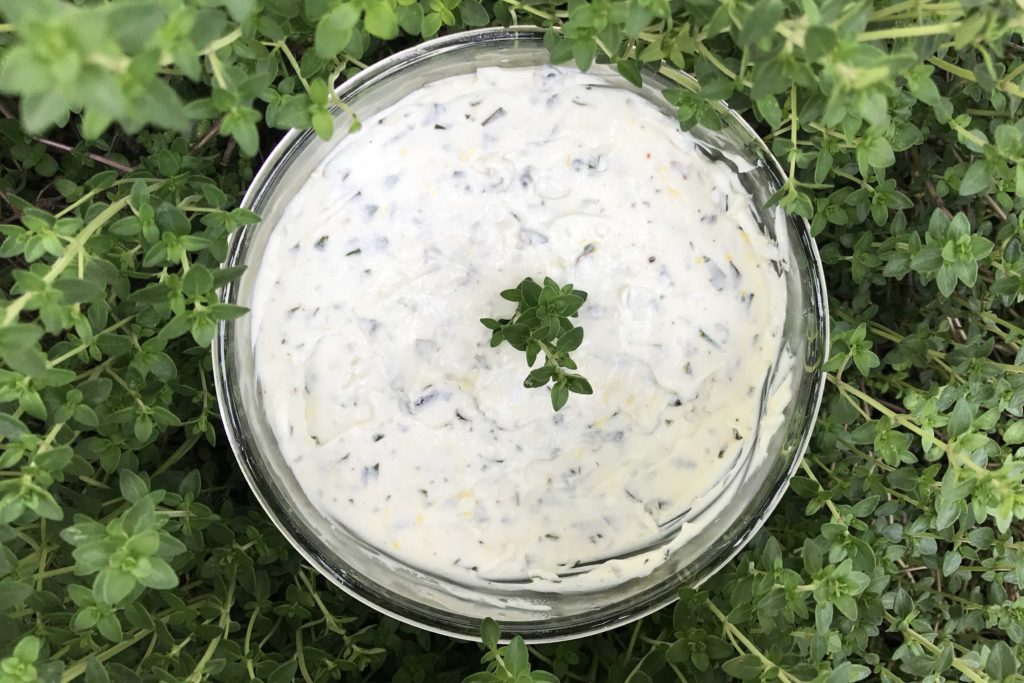 Ingredients
15 ounces non-fat plain Greek yogurt
2 teaspoons flavorful extra virgin olive oil
1 small garlic clove, minced
Zest from one lemon (~ 1 teaspoon)
3 tablespoons chopped fresh herbs (thyme, basil, tarragon, chives, etc.)
Serve with crackers or baguette slices
Instructions
Line strainer with a double layer of cheesecloth and place over a bowl. Spoon Greek yogurt into lined strainer and cover with plastic wrap. Refrigerate while yogurt drains – a minimum of 2 hours preferably overnight (the longer it trains, the thicker it will be).
Transfer drained yogurt to a bowl. Using a rubber spatula, mix in olive oil, garlic, lemon zest and herbs.
Transfer to a serving dish and cover. Refrigerate for at least an hour for the flavors to meld. Can be made the night before serving.
Serve with crackers or baguette slices.