I never had meatloaf growing up – I am guessing that my mother had a bad meatloaf experience as a child of the 1950's with a mom who didn't cook very well. I remember friends having meatloaf sandwiches for lunch but never felt that I was missing much. Not long after we were married I came across this recipe and decided to give it a try and am so glad I did. Think of it as a rather large really yummy meatball. The meat is very moist and the chunky spicy tomato sauce goes perfectly with it.
I had always served it with mashed potatoes – one of the few Italian recipes that Ed would let me get away with pairing with potatoes. This time I served it to our friends, Carolyn and Jonathan R, along side fresh ricotta gnocchi (both cheese and potato would work) which we all agreed was a wining combination. I got gnocchi from Vera Pasta, a local fresh pasta company, who has a stand at the Malvern Farmers Market. I recommend calling ahead to make sure they have it.
Everyone seems to have a favorite meatloaf – I'm glad I was able to find mine. I'd love to hear about your favorite meatloaf recipe or experience.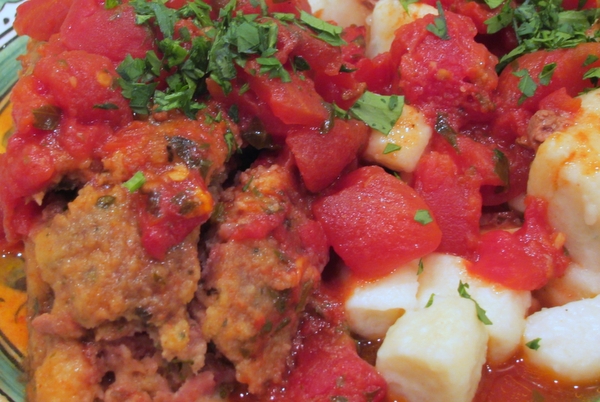 | | | |
| --- | --- | --- |
| Italian Meatloaf with Spicy Tomato Sauce | | Print |
Ingredients
4 slices Italian bread without crust, broken into rough pieces and soaked in 1 cup milk (skim is fine)
2 pounds ground beef (80%/20%)
¼ pound sliced prosciutto, finely chopped
2 large eggs, lightly beaten
¼ cup loosely packed chopped fresh parsley
1 cup freshly grated parmigiano-reggiano cheese
1 cup fine plain or Italian-seasoned bread crumbs (to coat the meatloaf)
3 tablespoons olive oil
2 tablespoons olive oil
2 cloves garlic, minced
4-14.5 ounce cans of diced tomatoes
½ teaspoon dried red pepper flakes
2 tablespoons chopped fresh parsley (mixed into sauce)
2 tablespoons chopped fresh parsley (for garnish)
Instructions
Preheat oven to 375°F.
Drain the bread and squeeze it with your hands into a soft pulp.
In a large bowl combine the bread, beef, prosciutto, eggs, parsley and parmigiano-reggiano, and season with salt and just a bit of black pepper.
Mix well with your hands or with a large spoon until the ingredients are thoroughly combined.
Shape the mixture into a large, rectangular loaf.
Spread breadcrumbs on a large piece of aluminum foil and roll the meatloaf in the bread crumbs to coat all sides.
Coat a large baking dish with olive oil.
Place meatloaf in dish and brush some oil on top.
Bake until golden brown, 50 to 60 minutes.
While the meatloaf is in the oven, heat oil in a medium-sized saucepan over medium heat.
Add garlic and stir until it begins to color, less than 1 minute.
Add the tomatoes and season with salt and red pepper. Cook 10-12 minutes, stirring a few times. Add parsley and stir.
After meatloaf has cooked for 50 to 60 minutes, carefully tilt the baking dish and discard about three-quarters of the fat and watery juices that have accumulated. Depending on the fat content of the meat, you may not have much juice – if that's the case, don't pour any of the juices off.
Pour the tomato sauce over the meatloaf and bakes 20 minutes longer. It's okay if it's still a little pink inside.
Cool the meatloaf 5 minutes before slicing.
Serve topped with a few tablespoons of tomato sauce and sprinkled with fresh parsley.
Notes
* Both the meatloaf (steps prior to cooking) and sauce can be made up to a day ahead of time. There's no need to warm up the tomato sauce since it's going in the oven.
* Serving suggestion: Both gnocchi and mashed potatoes soak up the tomato sauce quite nicely.