People tend to either love kale or have a strong disdain for it. You're supposed to love it because it's good for you but unless it's prepared correctly it can be easy not to like it. I think the key to loving kale is mixing it with other well-liked ingredients.
Here kale is one component of a fall-inspired rice salad. I've added to it roasted pecans, dried cranberries, feta cheese and brown rice. Don't skip the toasting step with the pecans as it intensifies their flavor even more.  If you don't have dried cranberries, dried cherries are a great substitute. While you can use any crumbled feta, I'm partial to Valbreso which is French feta. I find it to have a smoother taste. I used brown rice as the grain as it has a nice nutty flavor plus it's gluten-free. You could substitute a long grain white rice, farro or pearled barley.
If you take a few minutes to massage the kale it becomes more tender. Remove the kale leaves from the stem and cut into long strips (julienne-style). Place them in bowl and massage the kale with your fingers until tender (just a few minutes). Then add the rest of the ingredients to the same bowl and toss with the simple dressing. I think you'll find that by making the kale more tender it's more desirable.
This salad is a nice fall side dish but could be turned into a main course with the addition of some shredded chicken.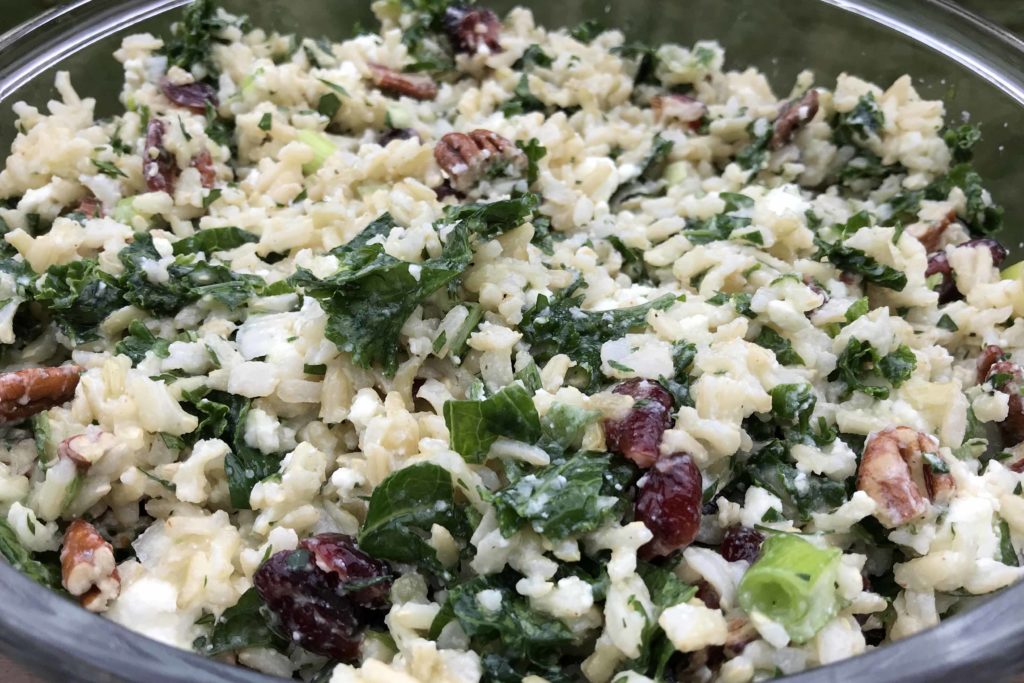 | | | |
| --- | --- | --- |
| Kale, Cranberry, Pecan, Feta and Brown Rice Salad | | Print |
Ingredients
1-1/2 cups uncooked brown basmati rice
1 cup chopped kale (about 4 big leaves)
¾ cup pecans, toasted and roughly chopped
¾ cup dried cranberries
3 medium scallions, chopped
⅓ cup chopped fresh parsley
1 cup crumbled feta
4 tablespoons freshly squeezed lemon juice (~1-1/2 lemons)
4 tablespoons extra virgin olive oil
Sea salt and freshly ground pepper
Instructions
Prepare brown rice according to package. Let cool to room temperature.
Preheat oven to 350°F. Place pecans on a baking sheet and toast for 3 to 5 minutes until slightly browned and fragrant. Let cool to room temperature.
Place chopped kale in a large bowl and massage for a few minutes until wilted.
Add pecans, cranberries, scallions, parsley and feta. Mix well.
Whisk lemon juice, olive oil, salt and pepper together in a small bowl. Add to rice salad and toss.
Refrigerate for a few hours for the flavors to develop.
Serve at room temperature.