Here's one that I bet you've never thought about (and if you have, please let me know) – why do we say "Gin and Tonic" but when we're making the same drink with Vodka we say "Vodka Tonic?" I asked a few bartenders and any friends who were willing to ponder this question and nobody had a good explanation – but all agreed it was odd. Now that I've got you thinking I'd like to share this wonderfully refreshing take on a Vodka Tonic.
Instead of the standard lime I've used lemon juice along with a slice of lemon. But what really pushes it over the top are the few dashes of lavender bitters – I used Scrappy's Lavender Bitters which are all natural. The bitters tie together all of the botanical flavors found in the Vodka and tonic water.
Other ingredients:  It's essential that you use high-quality tonic water such as Fever-Tree Indian Tonic Water (my preference) or Q Tonic. And good Vodka. Since going wheat-free I have been trying out some non-wheat Vodkas – I like Boyd & Blair which is a potato-based Vodka made in western Pennsylvania (for those of you living in PA you can find it in the state store) and Ciroc which is made from French grapes.
Put all of these ingredients together and enjoy sipping this lovely drink.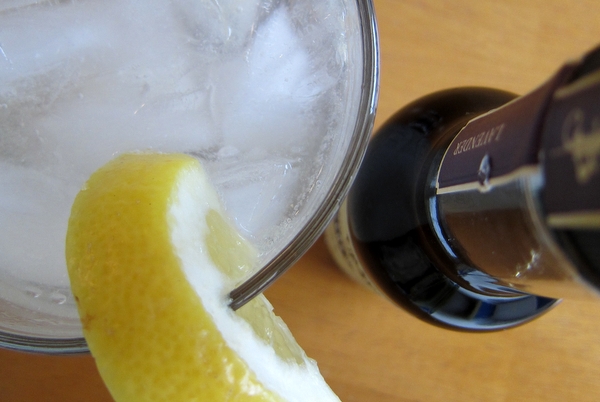 | | | |
| --- | --- | --- |
| Lavender-Lemon Vodka Tonic | | Print |
Ingredients
1-1/2 ounces Vodka
¾ ounce freshly squeezed lemon juice (~1/2 lemon)
3 to 4 dashes of Lavender bitters
High quality tonic water (such as Fever-Tree Tonic or Q Tonic)
Lemon slice (for garnish)
Instructions
Place vodka and lemon juice in a highball glass.
Add 3-4 dashes of bitters to glass.
Add ice until ¾ full.
Top with tonic water and stir.
Garnish with a lemon slice.