Potato salad and summer make a perfect pair. I like that you can make it in advance and in may cases it improves as it sits for a few hours.
This salad definitely gets better after sitting for a few hours. You dress it while the potatoes are hot which makes them more porous so they soak up a bit more dressing. Ideally if you make this a few hours in advance you can let it sit out at room temperature so it never gets the chill from the refrigerator. It can be made further in advance (overnight is fine) and in that case you'll want to take it out of the refrigerator an hour before serving. You add the chopped basil just before serving.
While I used basil you could substitute other fresh herbs such as chives, tarragon or mint (or a combination). Any leafy green herb that you might have growing in your garden at this time of year will work.
This salad is perfect for summer parties and would be a lovely addition to a 4th of July BBQ.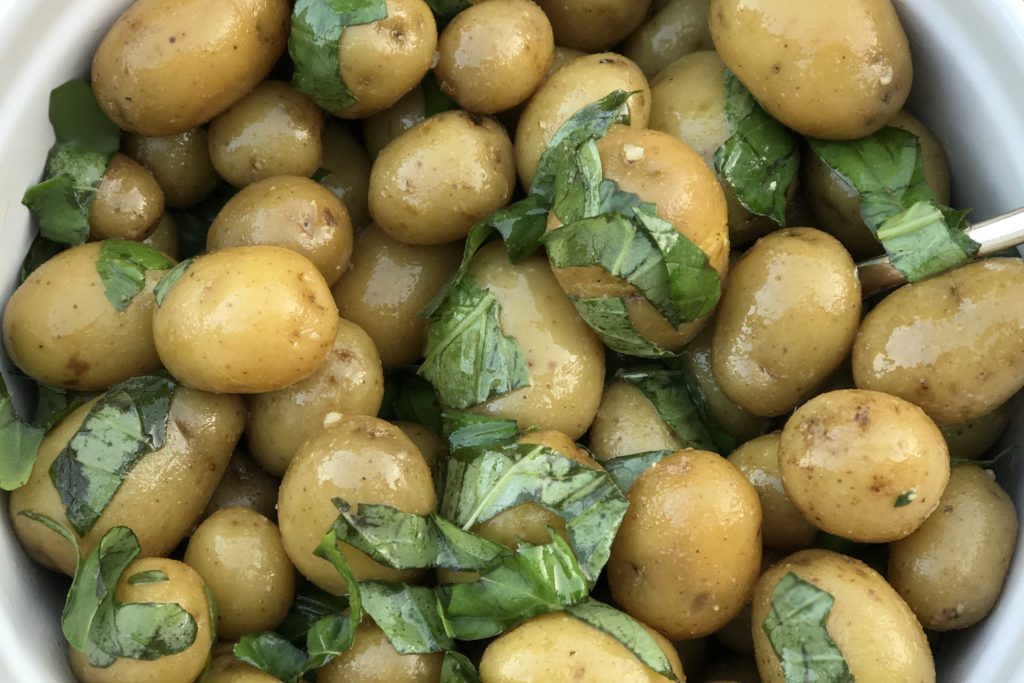 | | | |
| --- | --- | --- |
| Lemon-Basil Potato Salad | | Print |
Ingredients
2 pounds small gold potatoes
1-1/2 tablespoons freshly squeezed lemon juice (~ 1 lemon)
1 teaspoon Dijon mustard
1 garlic clove, minced
Sea salt and freshly ground pepper
4-1/2 tablespoons extra virgin olive oil
1 cup of fresh basil, thinly sliced (chiffonade-style)
Instructions
Steam potatoes (using a steamer insert) over high heat until you can easily break them with a fork, about 20 to 25 minutes.
Whisk lemon juice, Dijon mustard, garlic, sea salt and pepper together. Slowly add olive oil while whisking to emulsify.
Add hot potatoes to a bowl and toss with dressing until well coated.
Cover and let sit at room temperature for a few hours. If you're making it more than a few hours in advance, refrigerate it and bring it out an hour before serving.
Just before serving add basil and a bit more dressing, if needed.
Notes
* If you're using larger potatoes you'll want to cut them into at least quarters.
* You may have extra dressing – use it as a dressing for a green salad.
* Dressing keeps for a few weeks in the refrigerator.
* Recipe can easily be cut in half or doubled.