Years ago my sister, Sarah S, went on a sailing trip in the Caribbean. It was from this trip that we learned of two things – the wonders of a drink called a Mojito and of the indispensable kitchen tool knows as a muddler. If I recall correctly they packed mint for the trip to ensure they had ingredients to make Mojitos. 
Think of a muddler as a bartender's "pestle" while the glass is the "mortar." It's used to release the natural flavors in herbs and fruits while mixing it with some sort of sweetener (simple syrup, sugar cubes, honey, etc.).  Sarah gave us a red wooden one shortly after that trip and it's become a well-used tool in our kitchen toolbox.
Ed and I have been enjoying Mojitos since this time – mostly traditional but sometimes a variation. I was recently at the Bella Oliva in Wayne, PA which is a local olive oil and vinegar taproom. I was intrigued by their Lemongrass-Mint White Balsamic Vinegar especially when I was told it makes a great cocktail ingredient. I soon discovered that adding this to a traditional Mojito makes a great drink even better. The lemongrass flavor is subtle but you can tell it's there. It pairs nicely with Asian flavored dishes.
Tip:  As much as Ed and I prefer dark rum it doesn't work with Mojitos – this drink was made for light rum (sometimes called silver or white).
If you don't have access to Lemongrass-Mint White Balsamic Vinegar don't worry, this drink is still very tasty without it! But it's worth checking out your local olive oil and vinegar taproom (hopefully there's one near you) or looking online.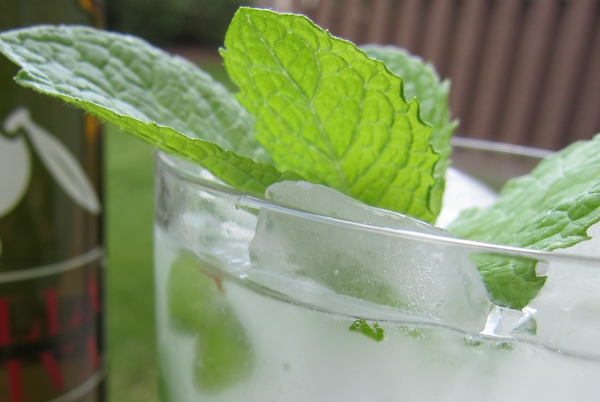 | | | |
| --- | --- | --- |
| Lemongrass-Mint Mojito | | Print |
Ingredients
6 fresh mint leaves, plus a sprig for garnish
1-1/2 tablespoons simple syrup (see Notes)
1 tablespoon lime juice
1 tablespoon Lemongrass-Mint White Balsamic Vinegar
2 ounces light Rum
club soda
Instructions
Place mint, simple syrup, lime juice and Lemongrass-Mint White Balsamic Vinegar in a highball glass.
Using a wooden muddler or back of a wooden spoon, muddle mint, syrup, juice and vinegar together to form a good syrup.
Fill cup with ice cubes.
Pour in Rum and mix with a spoon.
Top off with club soda and mix one more time.
Garnish with a sprig of mint.
Notes
* Lemongrass-Mint White Balsamic Vinegar can be found at olive oil and vinegar taprooms such as
Bella Oliva
in Wayne, PA.
* SIMPLE SYRUP
1 cup (8 ounces) water
1 cup granulated sugar
Bring the water to a simmer in a saucepan set over medium-high heat. Add the sugar and stir until it completely dissolves. Remove the pan from the heat. Set aside to cool to room temperature. Pour the syrup into a clean 1-pint bottle, cap it and refrigerate it until needed. Makes 1½ cups and keeps two months or longer in the refrigerator.
Source:  Variation of a recipe Bella Oliva Olive Oil & Vinegar Taproom in Wayne, PA