Growing up in Los Angeles I don't have many "cold-weather" food scents from my childhood.  I moved east for college and started collecting some of those scents that I'd been deprived of earlier in my life.  I still recall going to New York City and smelling chestnuts roasting via charcoal from a street vendor.  To this day that smell always reminds me of fall and winter in NYC.
While I have never roasted chestnuts, Ed has regaled me with stories of his mom roasting them. Some times they came out great and other times they did not.
Armed with this knowledge, I decided to try Melissa's Chestnuts which come already cooked and peeled (the hard part).  All I needed to do was roast them (the easy part).  These are ideal for any recipe that calls for chestnuts, such as Roasted Carrot and Chestnut Soup.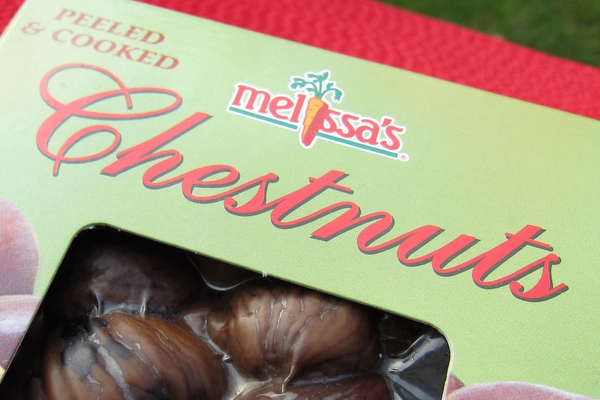 | | | |
| --- | --- | --- |
| Melissa's Chestnuts | | Print |
Recipe type:
Favorite Things
Ingredients
1 package Melissa's Chestnuts (6.5 ounces)
Parchment paper
Instructions
Preheat oven to 425°F.
Place the chestnuts on a cookie sheet covered in parchment paper and roast them for 10 minutes, turning them halfway through.
Use in any recipe that calls for roasted chestnuts.