Recently we went to visit my sister, Sarah S, and her family. I asked what we could bring and Sarah suggested something for breakfast. In my family we like breakfast casseroles for gatherings like this. It's something different than what you usually have for breakfast plus you can make it ahead of time which is particularly nice when you're visiting someone else's house. Then I realized that I hadn't yet ventured into the world of gluten-free breakfast casseroles as ones we typically make contain some sort of bread.
I began searching for a recipe and ended up adapting a few into this Mexican casserole. This casserole is packed with lots of good ingredients such as ground meat, eggs and cheese for protein plus a variety of vegetables including peppers and spinach. When it comes to breakfast I'm a savory person. Even before giving up wheat I stayed away from carbohydrates at breakfast as much as possible as they never filled me up. This was very satisfying. And, if you want some carbs feel free to serve some bread on the side. This can easily be made dairy-free by omitting the cheese since it's added towards the end. I made a small version without cheese for one of the members of my family. While I didn't try it with tofu crumbles you could substitute it for the ground beef or turkey.
As an aside, my cousin, Katie H, did make a breakfast casserole earlier this year with gluten-free bread that was quite yummy. I'm not a fan of most gluten-free bread but it works pretty well in casseroles as there are typically a bunch of other ingredients (eggs, milk, cheese, etc.) to mask the bread.
I think my family was a bit skeptical at first but once they tasted it I won them over. Sarah even enjoyed the leftovers for dinner. Having a Cinco de Mayo brunch? Here's your main dish.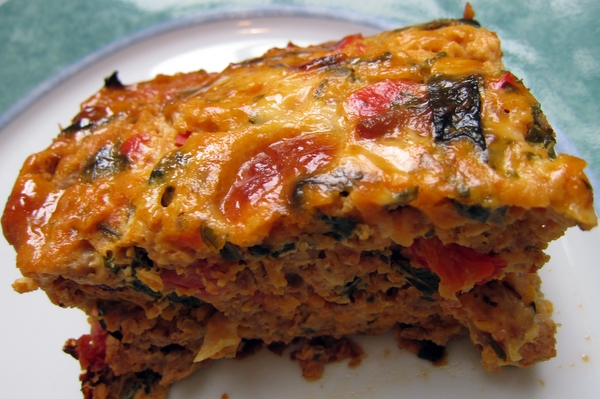 | | | |
| --- | --- | --- |
| Mexican Breakfast Casserole | | Print |
Ingredients
1 pound ground turkey or beef
1 large sweet potato, peeled and shredded
1 small onion, chopped
1 red pepper, chopped
1 jalapeño, seeds removed and chopped
2 garlic cloves, minced
1 14.5 ounce can of diced tomatoes with juice
1 tablespoon chili powder
1 teaspoon smoked paprika
½ teaspoon salt
4 cups (6 ounces) fresh spinach
12 eggs, whisked
1-1/2 cups (about six ounces) Monterey Jack cheese, shredded and divided
3 tablespoons chopped cilantro, divided
Instructions
Preheat oven to 375°F.
Spray a 9" x 13" baking dish (or something close to this size) with nonstick spray and set aside.
Shred sweet potato using a food processor with shredding attachment or by hand. Set aside.
Cook turkey or beef in a large pot (at least 4 quarts) over medium-high heat using a wooden spoon to break into pieces. Cook until no pink remains. Drain off extra grease.
Add sweet potato, onion, red pepper, jalapeño, garlic, tomatoes (with juice), chili powder, paprika and salt. Cook until onions are translucent, about 5 to 7 minutes, and tomato juice has absorbed.
Add spinach to pot and cook for about 2 minutes or until spinach wilts.
Beat eggs in a large bowl.
Add meat and vegetable mixture from pot to the eggs along with 1 cup of cheese and 2-1/2 tablespoons cilantro. Stir until well mixed.
Pour into prepared baking dish pan and spread evenly along the bottom. Sprinkle remaining ½ cup cheese and ½ tablespoon cilantro on top.
Place in preheated oven and bake for 30 to 40 minutes or until middle of casserole is set (not jiggly) and edges are lightly browned. Remove from oven and allow to cool for 5 minutes.
Notes
* The casserole can be made ahead 1 day in advance. Cover and refrigerate. Remove from the refrigerator 15 minutes before cooking. You may need an additional 10 minutes in the oven.
* Make it dairy-free by omitting the cheese or using soy cheese.
* Make it vegetarian by using tofu crumbles.