Lamb is one of my favorites and I do enjoy it served the way I grew up eating it – with mint jelly (which is really apple jelly with mint flavoring). If you're like me you have an abundance of fresh mint growing in your garden so this seemed like a good time of year to try a different mint sauce to serve with grilled lamb. Here you take fresh mint and combine it with fresh cilantro (perhaps from your garden, too?) to create a twist on traditional basil pesto.
I served this lamb with plain boiled new potatoes as I didn't want another sauce competing with it. I am so glad I did as it worked well with the potatoes, too. This pesto would go nicely on top of lamb burgers (add some crumbled feta) or salmon. It's safe to say that it's a bit more versatile than mint jelly.
My dad said that this was the best mint sauce he's ever had (and he's been eating lamb a bit longer than me).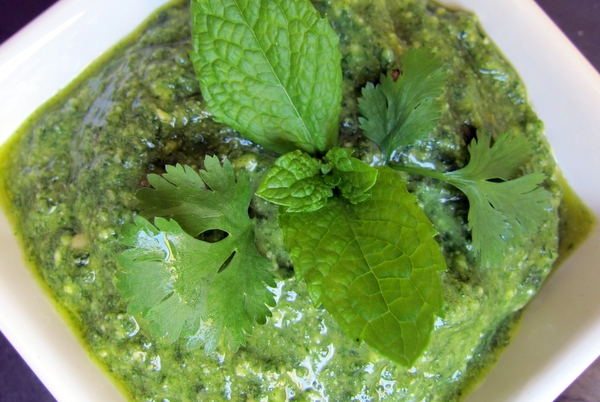 | | | |
| --- | --- | --- |
| Mint-Cilantro Pesto | | Print |
Serves:
Makes about ¾ cup
Ingredients
2 cups fresh mint, thoroughly washed and patted dry
1 cup fresh cilantro, thoroughly washed and patted dry
1 medium clove of garlic
¼ cup pine nuts
2 tablespoons fresh lemon juice
½ cup (or more) of extra virgin olive oil
¼ cup grated Parmigiano Reggiano cheese
Coarse sea salt and freshly ground pepper
Instructions
Combine mint, cilantro, garlic, pine nuts and lemon juice in the bowl of a Vitamix or food processor and chop.
Leaving the motor running, add the olive oil in a slow, steady stream until mixture is moist (but not too oily).
With the motor off, add cheese, salt and pepper.
Process briefly to combine, then scrape into a bowl and cover until ready to use.
Notes
* This recipe freezes well so you can enjoy some summer flavors in the middle of winter.