A favorite summer excursion with my family when we were younger was to head into Philadelphia to have dinner at Marrakesh on South Street. Marrakesh has been in the same location for decades – at the end of a small side street where entrance is gained by knocking on the door.  The menu hasn't changed much but that's okay as all of the many courses are very tasty. When our Gourmet Dinner Club did a Moroccan theme I thought back to the carrot salad that I had enjoyed there many times. I'm unsure if this is the exact recipe but it's close enough for my "food memory."
The carrots are cooked just long enough to be a good combination of crisp and tender – no worries about mushy carrots here. The dressing adds a great flavor. Make time to let them marinate overnight – you'll be pleased with the results.
Tip:  If you have leftover dressing mix it with plain yogurt.  Marinate boneless chicken breasts in the yogurt mixture overnight and grill. The result is moist and flavorful chicken.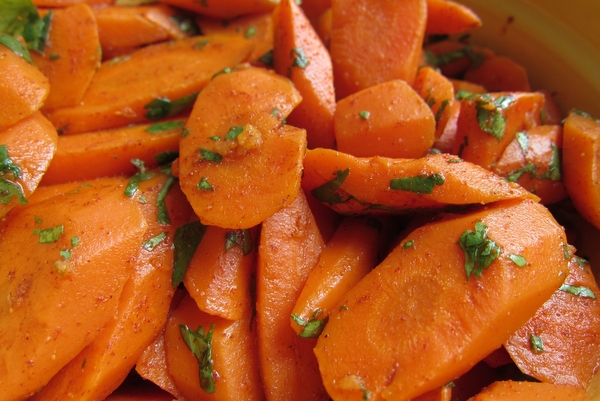 | | | |
| --- | --- | --- |
| Moroccan Carrot Salad | | Print |
Ingredients
2 pounds carrots
4 tablespoons fresh lemon juice
¼ cup chopped fresh cilantro
2 cloves garlic, minced
1 teaspoon sweet paprika
½ teaspoon ground cumin
¼ teaspoon ground cinnamon
¼ teaspoon cayenne pepper
Pinch of salt
¼ cup extra-virgin olive oil
Instructions
Fill a large pot with water and bring to a boil.
Peel carrots and cut them at on a diagonal into ¼-inch thick slices.
Add carrots to gently boiling water (you may need to adjust the heat) and cook until crisp-tender, about 10 minutes. Be careful not to overcook as you don't want them to get mushy.
Drain carrots in a colander and rinse under cold water.
Mix lemon juice, cilantro, garlic and spices in a small bowl. Whisk in olive oil.
Place carrots in a large bowl and pour dressing over until lightly covered. Reserve extra dressing.
Cover and let marinate in the refrigerator for at least 2 hours or up to 1 day to allow the flavors to meld. Add more dressing before serving if needed.
Served chilled or at room temperature.