Paris, 1919, just after the ending of the Great War.
He met her at the Ritz for cocktails. "What are cocktails?" she said.
"Hard liquor dressed up to be more respectable. I promise you, they're fashionable."
~ Excerpted from Ken Follet's Fall of Giants (a wonderful book if you like historical fiction)
I love this passage and thought it was a great way to introduce something new to Riegl Palate this year – a cocktail of the month.
This month's cocktail? The Moscow Mule. I came across a recipe for this drink back in the fall and added it to my list of drinks to make as Ed and I take turns making a new cocktail every Sunday. Then during the holiday season I remembered it as I saw "Moscow Mule" copper mugs for sale in many locations. I bought a pair from Crate & Barrel which were back ordered as they were so popular (much to the surprise of the person who helped me at C&B).
The cups arrived in time for Ed's birthday and we've enjoyed a few "fashionable" Moscow Mules in them. We find them to be quite flavorful (thanks to the ginger beer) and refreshing, plus very cold due to the copper mug. They are always made with ginger beer, not ginger ale – try Fentimans Ginger Beer or your ginger beer of choice. Ginger beer, like ginger ale, is non-alcoholic.
The perfect drink for watching the 2014 Winter Olympics in Sochi, Russia!
A bit of drink trivia…  A "mule" (or "buck")  in the drink world means the cocktail is either made with ginger beer or ginger ale and citrus juice. For example, adding lime juice to a Dark 'N' Stormy makes it a Rum Buck. The Moscow Mule was created in the early 1940's and was one of the first vodka drinks to become popular in the United States. It got it's name from the perception of vodka being a Russian product.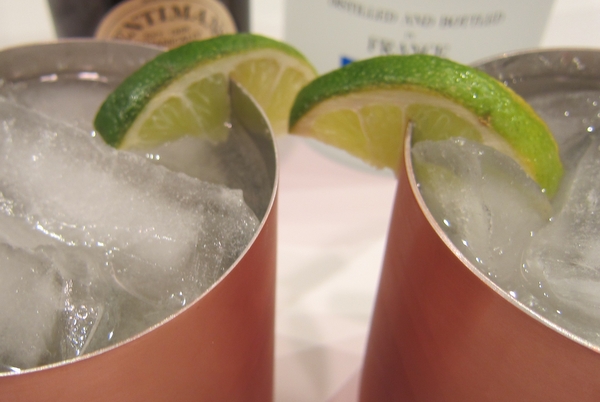 Ingredients
2 ounces vodka
1 ounce freshly squeezed lime juice (~ ¾ of a lime)
4 to 6 ounces of good quality ginger beer
lime wedge (for garnish)
Instructions
Fill Moscow Mule copper mug (or highball glass) with ice.
Add vodka and lime juice.
Top with ginger beer and stir.
Garnish with a lime wedge.
Notes
* Be sure to use Ginger Beer and not Ginger Ale.
*
Fentimans Ginger Beer
is available at Wegmans in the natural food section.