This is the perfect time of year for soups.  I love to cook up a large pot on a Sunday and eat it throughout the week or freeze it in individual containers for easy lunches. Since I know that there are others who like to do this, I thought I'd do a "soup series" with Mushroom Barley as my first installment.
Aunt Susie M made this soup for us many years ago and I have been making it ever since.  The barley makes this a hearty and filling soup and works well with the mushrooms and dill.  Plus, pearl barley is a good source of heart-healthy soluble fiber.
As a funny side story I remember asking Aunt Susie for the recipe and then suddenly realizing that I already had the cookbook from which it came.
Stay tuned for soup installment #2!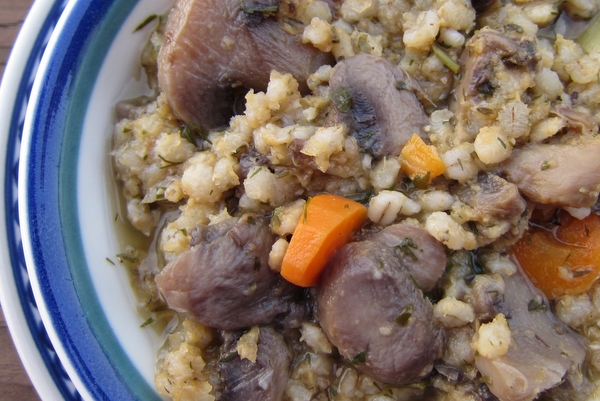 | | | |
| --- | --- | --- |
| Mushroom Barley Soup | | Print |
Serves:
Makes 3-1/2 quarts
Ingredients
3 tablespoons olive oil
1½ cups onions, chopped
1 cup carrots, chopped
1 cup celery, chopped
4 cloves garlic, minced
1 pound white mushrooms, sliced
3 quarts chicken broth
1 teaspoon salt
1 teaspoon pepper
¼ teaspoon nutmeg
1 teaspoon dried thyme
1 cup pearl barley
2 tablespoons fresh dill, minced
2 tablespoons fresh parsley, chopped
Instructions
Heat olive oil in large pot (5 to 6 quarts) over medium heat.
Add onions, carrots, celery, and garlic and sauté until tender but not browned, about 7 minutes.
Add mushrooms. Cook until just soft, about 5 minutes.
Add broth, seasonings, and barley. Raise heat to medium-high and bring to a boil.
Lower heat to low. Simmer 2 hours or until barley is tender, stirring occasionally.
Stir in dill and parsley.
Notes
* Freezes well.
* If you want a more hearty soup, cut the broth in half.
* You can also use vegetable broth if you prefer.
Source:  Variation of a recipe from The Frog Commissary Cookbook (1985).