The stars aligned for this cocktail creation. On a recent trip to Florida we were fortunate to visit my cousin, Pieter V, along with his wife, Lisa, and their daughter, Alexis. Lisa generously offered to share some of a wonderful bounty of lemons from a friend's garden. Don't tell TSA that I managed to smuggle one of these precious lemons back to snowy Pennsylvania.
What to do with one of the largest, juiciest lemons I've ever seen? I also happened to be in need of a cocktail to celebrate being Irish and decided I'm going to use the lemon to make something special for St. Patrick's Day. Introducing the "My Irish Honey" cocktail.  It's like lemonade meets honey meets Irish whiskey.
I realize that not everyone has access to a lemon that produces about 6 ounces of lemon juice (that's about 4 to 5 traditional lemons) but this is still a pretty easy recipe to make. Cutting into that lemon brought back fond food memories of eating lemons off of my friend's lemon tree growing up in Los Angeles. Added bonus was that the color of the juice was a bit more orange than yellow like a regular lemon.
While this cocktail works for St. Patrick's Day it's good anytime of the year.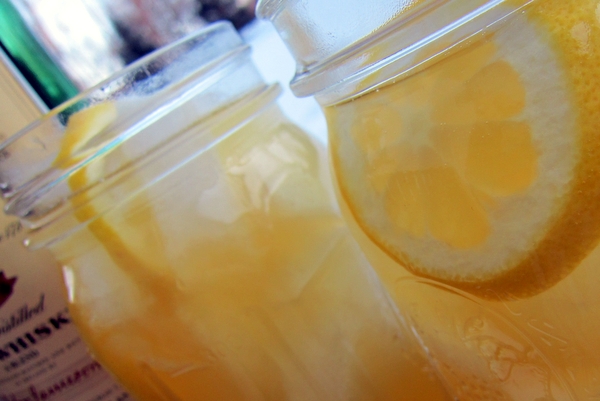 | | | |
| --- | --- | --- |
| My Irish Honey Cocktail | | Print |
Ingredients
⅓ cup honey
1-1/2 cups steaming hot water (almost boiling)
1 cup freshly squeezed lemon juice (~ 6 lemons)
8 ounces of Irish Whiskey (such as Jameson)
Lemon wheels (for garnish)
Instructions
In a heatproof 1-quart measuring cup or bowl, combine the honey and hot water.
Stir until the honey is dissolved.
Stir in the lemon juice. Cover and refrigerate until cold and ready to serve.
Fill highball glass or mason jar with ice.
Place 2 ounces of Irish Whiskey in a glass and top with 6 ounces of honey-lemonade mixture and stir. Repeat for 3 more glasses.
Garnish with 2 lemons wheels.