I love a good Greek salad – the flavors are simple and all work well together. So, when I found the recipe for this salad it seemed like a great way to incorporate many Greek salad ingredients (Kalamata olives, dill, red wine vinegar, lemon juice and feta) into a simple pasta salad.
I have made this salad many times and didn't think I could improve upon it until I ventured away from Greece and into France. I used a French feta (Valbreso) made from sheep's milk and discovered a wonderful new cheese. This feta is a bit smoother than traditional Greek feta and definitely worth looking for. My "helpers" – sister-in-law, Annie T, and niece, Atlee T – both agreed that this was tasty cheese.
This recipe is great for a summer picnic or party, as it is easy to make and a little orzo goes a long way, so it can feed a crowd. Plus, it's very adaptable – add grilled chicken to make it a main dish salad or use grape tomatoes instead of sun dried tomatoes.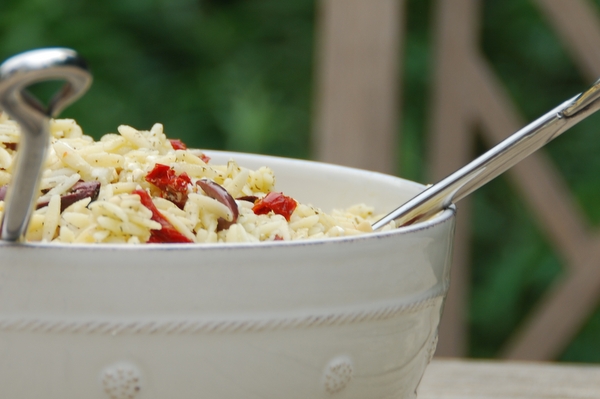 Photo by Annie Losey Teillon
Serves:
10-12 as a side dish
Ingredients
1 pound of orzo
1 clove of garlic
½ to ¾ cup dill, remove dill leaves from hard stems
2 tablespoons lemon juice
2 tablespoons red wine vinegar
½ cup extra-virgin olive oil
4-1/2 ounces sun dried tomatoes, julienne cut
1-1/2 cup Kalamata olives, cut in half (lengthwise)
½ cup pine nuts, toasted
6 ounces Feta, crumbled
Instructions
Cook orzo according to package. It should be "al dente."
Chop garlic in a food processor. Add dill, lemon juice, red wine vinegar, salt and pepper and chop well. Add olive oil in a slow steady stream until dressing is emulsified.
Drain pasta and toss with dressing while pasta is still warm. Cool pasta at room temperature. Add sun dried tomatoes, Kalamata olives, pine nuts and feta and mix well. Season with salt and pepper.
Notes
- You can substitute grape tomatoes (cut in half) for sun dried tomatoes. - I found the French Feta (Valbreso) at Wegmans and it is already crumbled. - You can make this salad the night before. - This recipe can easily be cut in half or doubled.