Every recipe we have made from Gordon Hamersley's Bistro Cooking at Home has been a hit!  While Ed and I have never had the pleasure of dining at his restaurant in Boston, a few family members have eaten there and thankfully introduced us to this cookbook.
The first time I made this it was for our wine group – the challenge there is to make an entrée that is meatless so I often go for a pasta dish.  When I read the ingredients for this recipe I kept wanting to add something – it just didn't seem to be enough.  But, I told myself to trust Gordon Hamersley as he had yet to steer me wrong and I'm glad I didn't make any adjustments as it is perfect the way it is.  Great flavors and my sister, Dixie J, said she thinks it's even better the next day.
The only ingredient that you might not readily have on hand is walnut oil – it's worth getting as I assure you that you'll like this recipe enough that you'll make it a few times.  Do refrigerate your walnut oil to get more life out of it.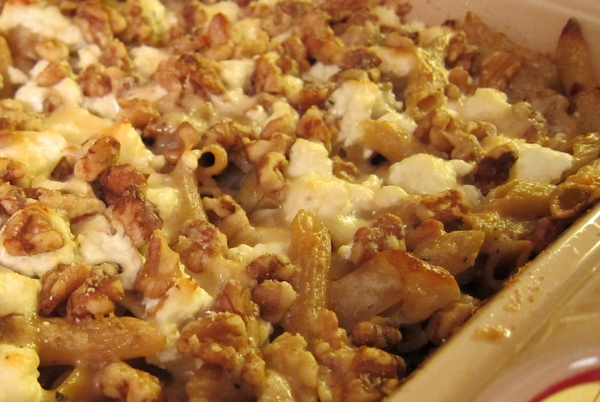 | | | |
| --- | --- | --- |
| Oven-Baked Penne with Onions, Walnuts and Goat Cheese | | Print |
Ingredients
1 pound penne (whole wheat works well)
3 tablespoons olive oil
1 tablespoon butter
1 small onion, sliced
¼ cup dry white wine
1 teaspoon chopped fresh thyme
Pinch of red pepper flakes
3 ounces chopped walnuts
Salt and freshly ground black pepper
¾ cup heavy cream
5 to 6 ounces fresh goat cheese
2 teaspoons walnut oil
½ cup Parmesan cheese, preferably Parmigiano-Reggiano
About 2 tablespoons chopped fresh parsley
Instructions
Bring a large pot of salted water to a boil. Add the penne and cook until the pasta is al dente, about 10 minutes. Drain the pasta, put it into a large bowl and toss it with the olive oil.
Heat the oven to 350°F. Heat the butter in a medium sauté pan over medium heat. Add the onion and cook, stirring every few minutes, until the onion is tender and golden, about 10 minutes. Add the white wine, bring to a boil, and stir, scraping up any browned bits on the bottom of the pan. Transfer the onion to a bowl with the penne. Add the thyme, the red pepper flakes, and half of the walnuts, and toss well to combine. Season with salt and pepper to taste.
Combine the cream with about 2 ounces of the goat cheese and toss this with the pasta. Pour the pasta into a high-sided baking dish. Dot the top evenly with the remaining goat cheese and sprinkle with the remaining walnuts. Drizzle with the walnut oil and, finally, sprinkle with the Parmesan cheese.
If cooking immediately, bake for about 15 minutes until heated through.
Can be made 24 hours in advance, cool to room temperature, cover and refrigerate. Bake, covered in aluminum foil for about 40 minutes. Remove foil and bake an additional 15 minutes until heated through.
Once baked, sprinkle with the chopped parsley and serve.
Source:  From Gordon Hamersley's Bistro Cooking at Home (2003)