Our friends, Nichelle S and John S, are fortunate to have relatives that live in France that they visit most summers. During their visits one of their favorite drinks is rosé wine mixed with pamplemousse (French for "grapefruit") syrup – which makes for a perfectly lovely, slightly sweet wine cooler (that bears no resemblance to the wine coolers of 1980's, I promise).
Nichelle and John always return from France with containers of this grapefruit syrup so that they can enjoy this drink on this side of the pond. They were nice to share their ration with me after learning my love for both rosé wine and grapefruit. I thoroughly enjoyed the combination and accepted the challenge of recreating it. I am happy to report that they were very pleased with my results – I tested it on them to be sure.
I did have a bit of a quandary as the best grapefruits are available in the winter and rosé wine is typically a summer wine.  The first batch I made happened to be in February so I was able to use the best of the winter crop, but thankfully we do get grapefruits all year round and I have a good supply of rosé wine all year round, too. If you're a purist, you can juice and zest your grapefruits in the winter and freeze both ingredients to make the best syrup possible to enjoy during the summer months (or make the recipe ahead of time and freeze the finished syrup).
Feel free to vary the amount of syrup based on the level of sweetness you prefer. Fair warning – these go down very easily as my Uncle Christopher M so thoughtfully pointed out.
Rosé Primer:  All rosés are dry but some are more "fruity" than others.  I prefer those from France as they are more on the dry, less overly fruity side (which is my preference). I find those from South America are more "fruity" but still dry.  Stay away from wines called "blush" as they are going to be more sweet (White Zinfandel being the most popular blush wine). You can't go wrong with any rosés that come from Provence or Rhone in France.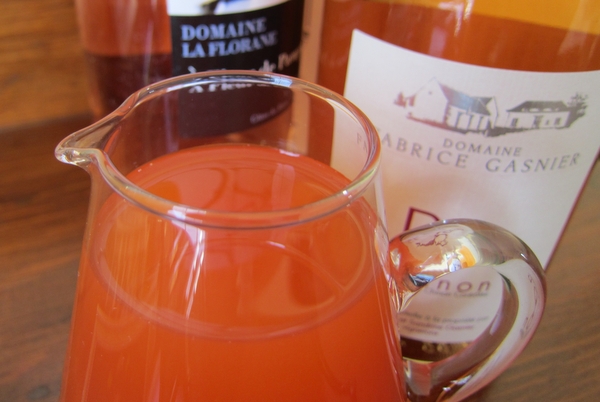 | | | |
| --- | --- | --- |
| Pamplemousse-Rosé Wine Cooler | | Print |
Serves:
Makes 2 cups of syrup
Ingredients
2 cups ruby red grapefruit juice (from ~2 grapefruits)
2 tablespoons ruby red grapefruit zest (from ~2 grapefruits)
1 cup sugar
Chilled rosé wine
Instructions
Wash and dry the grapefruits well.
Zest grapefruits until you have about 2 tablespoons of zest.
Mix zest and sugar in a bowl until the sugar appears fluffy and moist. Cover tightly and let sit overnight (or minimum of a few hours) at room temperature.
Juice grapefruits and refrigerate juice. If you don't have 2 cups of juice, add water to get you to 2 cups.
The next day: In a medium saucepan over medium-high heat, combine grapefruit juice and grapefruit sugar, stirring to dissolve the sugar. As soon as syrup starts to boil, remove from heat and let cool.
Double strain syrup into a glass container so that it is clear. For the first straining I use a wider mesh strainer and the second time I use a finer mesh strainer.
Store syrup in the refrigerator for up to a month.
Place 1 tablespoon of syrup in a white wine glass. (Adjust amount of syrup according to your taste.)
Add 4 ounces of rosé wine and mix.
Notes
* Syrup also mixes well with seltzer.
* Syrup can be made ahead of time and frozen.