We still recall the first time we met our favorite mixologist, Papi Hurtado, about five years ago. We had a great meal at Savona in Gulph Mills, PA with Olga and Kevin L and went to the bar for a nightcap. We could tell by looking at the bar that Papi wasn't your average bartender as he had lots fresh ingredients plus homemade bitters to mix with a great selection of alcohol. Kevin recommended Papi's signature drink called a Blazer made with tequila and Grand Marnier and a bit of fire –
we were hooked.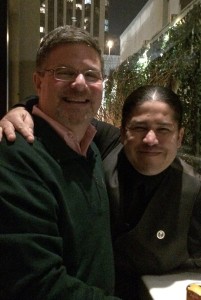 Fast forward a few months when we found ourselves at the relatively new bar at Restaurant Alba in Malvern, PA and there was Papi. Boy were we happy especially since Alba was already one of our favorite restaurants. We spent many a night being wowed by Papi's master skills in making the most perfect cocktail. My favorite was whatever special Prosecco delight he would come up with – usually made with the freshest fruits of the season. And Ed loved Papi's Old Fashioned. In fact all other Old Fashioneds paled in comparison. So imagine our dismay when arrive at Alba on a Saturday night in April, 2013 to find that Papi is no longer in charge of the bar.
We soon learned that he had an opportunity that he couldn't refuse – the chance to open a new bar at the Rittenhouse Hotel in center city Philadelphia. While we were sad that Papi was no longer close by we knew this was a chance for him to really shine. I reached out to Papi that Christmas to ask if he'd share his Old Fashioned recipe. He very kindly did and I put it in Ed's stocking. I think it was his favorite gift that year. Then for Ed's birthday I surprised him with a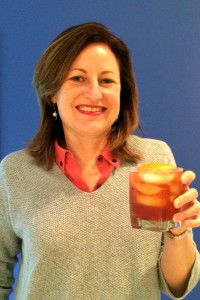 getaway to Philadelphia that included all of his favorite things including a pre-dinner cocktail with Papi at The Library Bar at the Rittenhouse Hotel. It was a great reunion. Note that The Library Bar is right off the lobby on the first floor – tucked away in a corner in case you find yourself there.
While Papi is the master of the Old Fashioned Ed has done a great job paying tribute. He uses the best ingredients and carefully stirs them so as not to bruise the alcohol (yes, that can happen). Many guests in our home have enjoyed Ed's version but my favorite was when my college friend and roommate, Elisabeth R, visited and selected an Old Fashioned from the cocktail menu we had created. She picked it because it was her mom's favorite drink and liked it so much she had one both nights she was with us.
There's a reason that classic cocktails never go out of style – they are just that good. Check out this month's Bon Appétit magazine's collection of classics ranging from a Sazerac to a Manhattan. Perfect for a cool fall evening.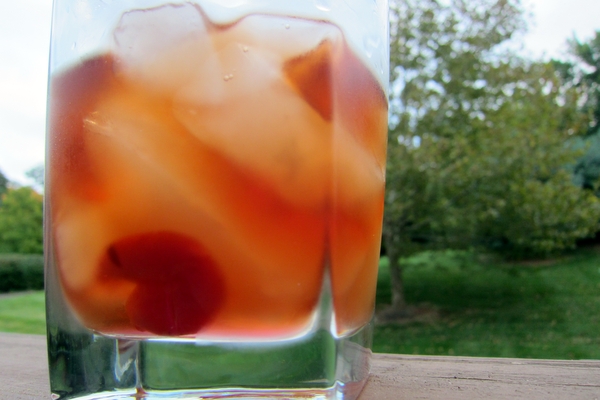 | | | |
| --- | --- | --- |
| Papi's Old Fashioned | | Print |
Ingredients
2 ounces bourbon
¾ ounces simple syrup
3 splashes of Angostura bitters
2 splashes orange bitters
¼ ounce (1-1/2 teaspoons) maraschino juice
Garnish: orange twist and cherry
Instructions
Put all the ingredients in a cocktail shaker and stir for 2 minutes.
Strain into a rocks glass filled with ice.
Garnish with a orange twist and cherry.