Our friends Kathy H and John W recently invited us to a North Carolina BBQ at their home. John takes his BBQ very seriously – we've been told that he sometimes sleeps outside to tend to his brisket overnight. We were asked to bring a dessert so I started looking at menus from BBQ places in North Carolina and saw a lot of banana pudding (also suggested by my NC friend, Cathy R), key lime pie and pecan pie.
Pecans were the inspiration I needed. Instead of a full pie, I opted for bite-sized pecan squares. Unless it's a sit down meal I find people are often intimidated by full-sized pies and cakes, so I prefer making something smaller.  
I consulted a classic southern dessert book, Desserts from the Famous Loveless Cafe by Alisa Huntsman (pastry chef at the Loveless Cafe and Culinary Institute of America graduate), in hopes of finding a small pecan bite and was successful. The dough used in this recipe is the Loveless Cafe's recipe for "Lattice Dough" – so it's the dough used to make the lattice strips on top of a pie (there's another recipe for the pie shell). The original recipe calls for all-purpose flour, but it turned out very well using Cup4Cup Multipurpose flour – my go-to gluten-free flour.  It comes together easily in a food processor and you use your fingers to press the dough into the pan – no need to roll out the dough.
This recipe comes from neighboring Tennessee so not far from North Carolina. Nobody seemed to mind as they were very well received. Nor did anyone notice that they were gluten-free (reminder that you can make them with all-purpose flour, too). The were a great finish to John's amazing smoked Boston butt. 
If you haven't been to the Loveless Cafe, please check it out the next time you're in Nashville. Best to come with an empty stomach and have a biscuit!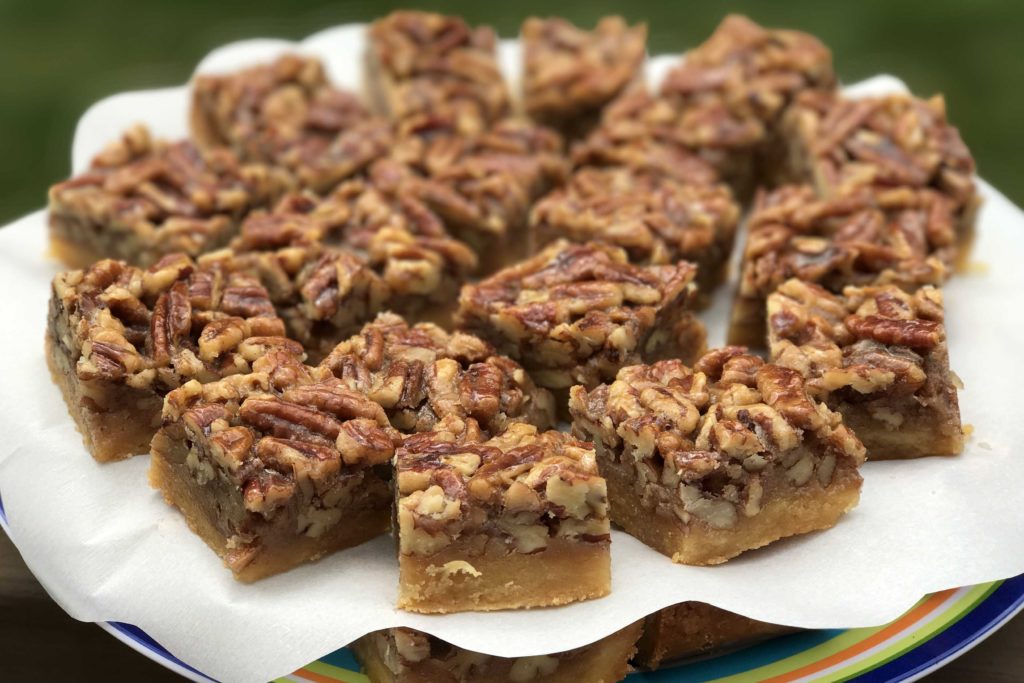 | | | |
| --- | --- | --- |
| Pecan Squares (Gluten-Free) | | Print |
Ingredients
2 cups all-purpose or gluten-free flour
12 tablespoons powdered sugar
1-1/2 sticks unsalted butter, cold and cut into small cubes
2 egg yolks
2 sticks unsalted butter, cut into pieces
¾ cup light brown sugar, packed
¾ cup honey
¼ cup heavy cream
1 teaspoon vanilla extract
4 cups pecan pieces
½ teaspoon ground cinnamon
Instructions
Preheat oven to 350°F. Spray a 9" x 13" baking pan with cooking oil, line bottom with parchment paper and spray paper.
Prepare the crust base:
In the bowl of a large food processor, place flour and powdered sugar. Pulse briefly to blend. Scatter butter cubes evenly over top of flour and powdered sugar mixture. Pulse to cut in butter until no lumps are visible and mixture resembles the texture of cornmeal. Add egg yolks and pulse to blend, mixing only until comes together (about a minute). Avoid overprocessing.
Using your fingers, pat dough into prepared pan, working evenly over the bottom and coming up about an inch on the sides of the pan. Line inside of crust with parchment paper or foil, and add enough pie weights or dried beans to cover the crust. (By using pie weights or beans you avoid your crust puffing up.)
Bake crust for 20 to 30 minutes until the sides start to brown and bottom is dry but not colored. Remove from oven and let cool slightly. Remove pie weights or beans and paper or foil.
Prepare the filling:
Using a heavy 3 to 4 quart saucepan, melt butter with brown sugar and honey over low heat, stirring occasionally. Raise heat to medium-low and bring to a slow, rolling boil. Boil for 5 minutes without stirring – do watch it carefully. If the syrup begins to boil hard and and foams up the side of the pan, reduce heat so the caramel (filling) doesn't get too hard.
Stir in cream and vanilla and return to a boil; boil for 1 minute. Remove from heat immediately and stir in pecans and cinnamon. Pour filling onto crust and spread evenly. Place pan in oven.
Bake for 10 to 20 minutes until it's bubbly all over. Transfer pan to a rack and let cool for at least 4 hours or preferably overnight (covered in refrigerator).
To unmold, using pot holders, gently warm bottom of pan over low heat. Place a large baking sheet over the top of the pan and invert. Remove parchment paper. Set a cutting board atop unmolded crust and invert again. Using a sharp knife, cut bars into small squares. (You can cut the squares in the pan and pry them out with a spatula, but they will not look as neat – it's actually much easier to cut them using the double inversion technique.)
Adapted from Alisa Huntsman's Desserts from the Famous Loveless Cafe (2011)