My paternal grandfather, Pierre T, died when I was five. My memories of him are sparse – him sitting in his big leather chair, stealing my nose (isn't that what all grandfathers do?) and getting stuck in a small motorboat off the coast of the Florida Keys. One thing that I learned as I grew older was that his drink of choice was a Perfect Rob Roy.
My dad used to make one for my grandmother (she lived for another 37 years) and he still makes one for himself.
Recently Ed reached out to my dad to get the family recipe so he could make it for Sunday night cocktails. Despite this being a family favorite I'd never tried it.
What makes it "perfect?" Equal amounts of both sweet and dry vermouth. My grandfather (and now father) had a strong preference for an Italian sweet vermouth and a French dry vermouth. They also prefer a lemon (traditional) or orange peel (my dad's addition) as garnish and are vehemently opposed to adding a Maraschino cherry (many recipes call for this). Add a dash of Angostura bitters or orange bitters (to accompany the orange peel) and you have a lovely classic drink.
As for the history of the Rob Roy, it's named for a Broadway show and was introduced in the 1890s at the Waldorf Hotel in New York City. It was around the time that blended scotch (or scotch whiskey) was being introduced to the United States. The drink is similar to a Manhattan but instead of bourbon it contains scotch. Ed used Dewar's scotch as the base for this cocktail. Being married to a bourbon lover I don't tend to drink much scotch, but I rather liked the taste of this drink – it was just the right level of sweetness (which isn't too sweet for me).
My grandparents were married on January 1, 1942 – 25 days after Pearl Harbor was attacked – they would have been married 76 years this month. The "Pink Lady" in the background of this picture is a cookie jar my grandfather gave my grandmother not long after they were married. She has a special place in our kitchen.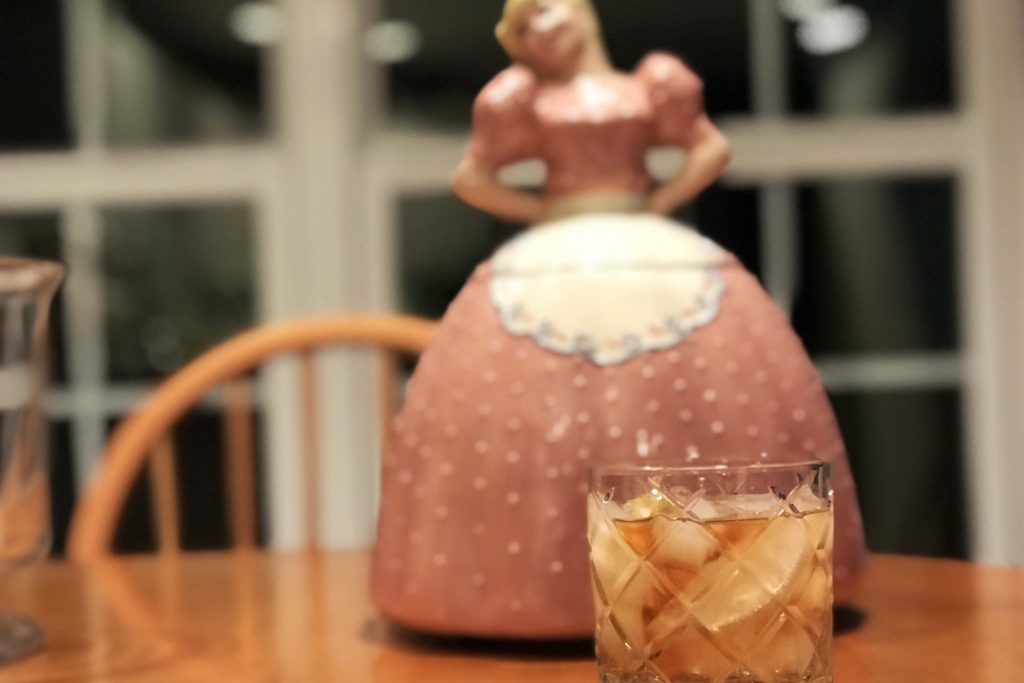 | | | |
| --- | --- | --- |
| Pierre's Perfect Rob Roy | | Print |
Ingredients
2-1/2 ounces blended scotch whiskey (such as Dewar's)
1 teaspoon sweet vermouth (preferably Italian)
1 teaspoon dry vermouth (preferably French)
1 dash of Angostura bitters or orange bitters
Garnish: lemon or orange peel
Instructions
Put all the ingredients in a cocktail shaker and stir for 2 minutes.
Strain into a double old fashioned glass filled with ice.
Rub lemon or orange peel over rim of glass then place in filled glass.