One of the greatest tennis events of the year is just around the corner. Wimbledon is the oldest tennis tournament in the world (dating to 1877) and is the only one of the four making up the Grand Slam that is still played on grass courts. The official drink of Wimbledon? You guessed it – the Pimm's Cup.
Here's a bit of a primer on Pimm's in case you were wondering what it is. It was first concocted in 1823 in London by James Pimm as a gin-based tonic made with a secret mix of herbs and liqueurs. Pimm served it in a small tankard known as a "No. 1 Cup" – hence its name. It's best described as having a subtle spice and citrus flavor. Over the years there have been a variety of Pimm's that have only differed in their base alcohol:  Scotch whiskey (No. 2), brandy (No. 3), rum (No. 4), rye whiskey (No. 5) and vodka (No. 6). The original No. 1 made with gin has stood the test of time and is readily available. While I haven't seen it I've read that No. 6 (vodka) can be found in small quantities. Pimm's is 25% alcohol by volume compared with other spirits (vodka, gin, etc.) that are 40% by volume so makes for a lighter and more refreshing drink.
There are as many ways to make a Pimm's cup as there were varieties of Pimm's. We like the traditional method – mixed with ginger ale (in this case high-quality ginger ale from Fever-Tree) and garnished with lemon and lime wheels. Don't like ginger ale? Many make it with lemonade instead.
This year Wimbledon runs from June 29 through July 12 – hopefully that gives you enough time to find some Pimm's No. 1. Not only is this a great drink to enjoy while watching some of the world's best tennis it's just a good all around drink for summer.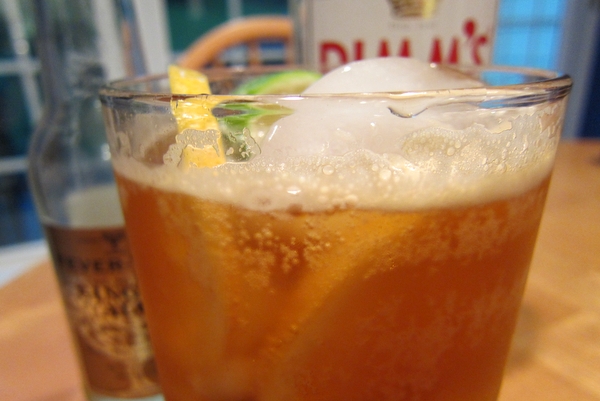 Ingredients
3 ounces Pimm's No. 1
14 ounces high quality ginger ale (such as Fever-Tree)
lemon and lime wheels
Instructions
Fill highball glasses with ice. Add 1-1/2 ounces of Pimm's No. 1 to each glass.
Top with ginger ale and stir.
Garnish each glass with a lemon and lime wheel.