Think of this as kind of a sweet-savory fruit salad turned into a dip. While the pineapple provides the strongest flavor the sweetness is cut by the lime, jalapeño and cilantro. It also offers a nice contrast of textures from crunchy peppers to the soft avocado.
Pineapples get their name from their resemblance to a pine cone. Their peak season is March through July although you can get them all year round. When selecting a pineapple pick the largest, most plump one you can find – the heavier it is the juicier it will be. A sweet scent is the most important aspect of choosing a ripe pineapple. If it has no scent, it's not ripe. You can also use fresh pineapple that's already been cut up. I do not recommend using canned pineapple.
I like to serve this with a multigrain tortilla chip (providing a gluten-free option) and also a cinnamon sugar pita chip. The sweetness of the pineapple works well with the sweeter pita chip.
This is a great alternative to a traditional tomato-based salsa and is perfect for summer parties and gatherings.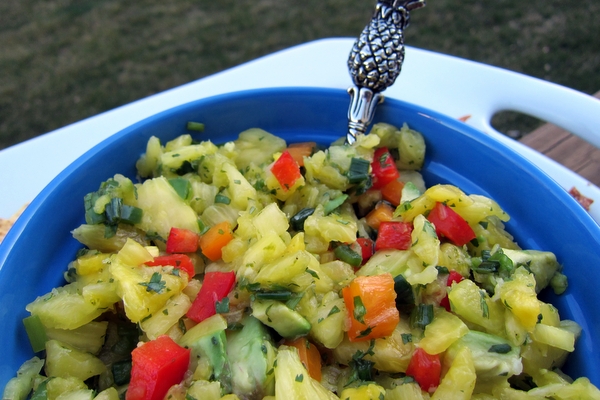 Ingredients
1 medium to large pineapple (3-4 cups or 24 ounces), diced
½ red pepper, diced
½ orange pepper, diced
2 cloves garlic, minced
juice and zest of 1 lime
3 tablespoons chopped cilantro
1 jalapeño, seeded and finely chopped
1 avocado, diced
Serve with cinnamon pita chips and/or multigrain tortilla chips
Instructions
Mix all ingredients except for the avocado in a bowl.
Place in refrigerator overnight or for a few hours for flavors to develop.
Bring to room temperature and add avocado just before serving.
Serve with cinnamon pita chips and/or traditional tortilla chips