Everywhere you look it's all about pumpkin. I even saw an ad celebrating the 10th anniversary of the Starbuck's Pumpkin Spice Latte. Recently I decided to make dessert for an informal gathering of good friends. I was thinking about what to make and I decided to jump on the pumpkin bandwagon.
This dessert has that great pumpkin flavor which is enhanced by a variety of spices and made even more moist by the addition of buttermilk.  I recommend taking the time to add the cream cheese drizzle as it's just the right amount of frosting to cake ratio.  If you don't have time (or are not frosting-inclined) just sift some powdered sugar on prior to serving. The cake can stand on its own without the frosting.
This cake is great for dessert, but also pairs well with coffee the following day – many friends told me so.
P.S.  I accidentally bought Madagascar Vanilla Crème Fraîche from Vermont Creamery instead of plain Crème Fraîche, but brought it with me on a trip to my sister's (Sarah S) house for Thanksgiving. So glad I did as my stepmother, Peggy T, had made this cake but hadn't frosted it as we were going to have it for breakfast. Since we were already overindulging we spread a bit of it on the cake – so yummy!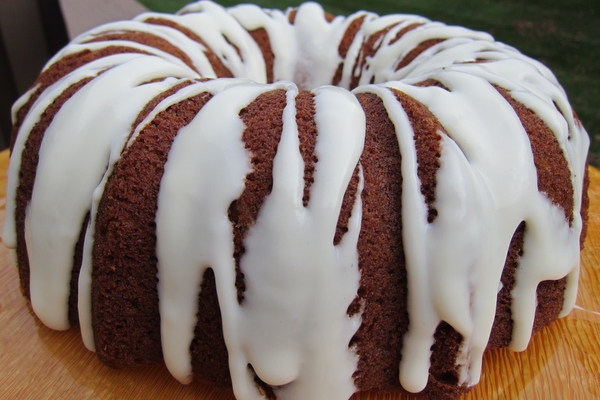 Ingredients
1-1/2 sticks (3/4 cup) unsalted butter, softened, plus additional for greasing bundt pan
2-1/4 cups all-purpose flour, plus additional for dusting pan
2 teaspoons baking powder
1 teaspoon baking soda
1 teaspoon cinnamon
¾ teaspoon ground allspice
½ teaspoon cardamom
½ teaspoon ginger
½ teaspoon nutmeg
¼ teaspoon ground cloves
½ teaspoon salt
1-1/4 cups canned solid-pack pumpkin (from a 15-ounce can; not pie filling)
¾ cup buttermilk
1 teaspoon vanilla
1 cup white sugar
¼ cup brown sugar
3 large eggs
4 ounces cream cheese, room temperature
½ cup confectioners' sugar, sifted
Pinch of salt
1 tablespoon freshly squeezed lemon juice
3 tablespoons milk, plus more if needed (skim is fine)
Instructions
Preheat oven to 350°F. Butter bundt pan generously, then dust with flour, knocking out excess.
Whisk together flour, baking powder, baking soda, spices and salt in a bowl.
Whisk together pumpkin, buttermilk, and vanilla in another bowl.
Beat butter, white sugar and brown sugar in a large bowl with an electric mixer at medium-high speed until pale and fluffy, 3 to 5 minutes, then add eggs and beat 1 minute.
Reduce speed to low and add flour and pumpkin mixtures alternately in batches, beginning and ending with flour mixture and mixing until batter is just smooth.
Spoon batter into pan, smoothing top, then bake until a wooden pick or skewer inserted in center of cake comes out clean, 45 to 50 minutes.
Cool cake in pan on a rack 15 minutes, then invert rack over cake and reinvert cake onto rack.
Let cake cool completely before icing.
Beat cream cheese in a large bowl with an electric mixer at medium-high speed until light and fluffy, 4 to 5 minutes, scraping down sides of bowl as needed.
Add sugar and beat until combined, about 1 minute.
Add salt, lemon juice and milk; mix on low speed until smooth.
If glaze is too thick to drizzle, add more milk, 1 tablespoon at a time.
Leave cake on rack and drizzle icing over cake in ribbons - it should not be completely covered.
Transfer cake to a plate for serving and place in refrigerator at least 30 minutes to set the icing.
Bring cake to room temperature before serving.
Notes
* You'll need a 10-inch nonstick bundt pan (3 quart or 12 cups). In my collection of bundt pans (don't ask how many I have) this is the largest one.
* You can also make mini-loaves (2-cup mini-loaf pans). One recipe makes 4 loaves. Cook for 25-30 minutes.
* I recommend using SACO Cultured Buttermilk Blend in place of fresh buttermilk. You'll find it in the baking section of your grocery store. Follow directions on the container for use. It keeps for a few years refrigerated so you always have buttermilk on hand.