I've liked tonic water since I was a little girl – yes, that's probably odd.  I used to visit my Great Aunt Jean in Boston when I was growing up and she always took me out for "grown up" meals because she loved an excuse to go out and show off Boston.  I remember ordering tonic with lime before I was old enough to drink alcohol – I guess I thought it sounded like a "grown up drink!"
When I was old enough to drink, summer in my family's house meant dark rum (Meyer's Rum was our rum of choice) and tonic with lime – we bypassed gin and vodka.  I have since learned that dark rum is an unusual mixer for tonic, but I love it (and, Ed quickly bought into this Teillon tradition).
So, last summer when I when I found Q Tonic I knew that I had to try it.  Up until now I had been satisfied with Canada Dry or Schweppes – but there is now no going back.  Think of it as a far "softer and far smoother" version of the tonic you are used to.  Instead of being sweetened with high fructose corn syrup it is made with organic agave.  And, it has 60% fewer calories than traditional tonic.  Be warned, all of this "wonderfulness" does come with a price – at my local Wegmans it's $5.99 for a 750ml bottle.  I promise you that it's worth it – think about the amount of money you may be spending on the alcohol you're mixing with your tonic – doesn't that alcohol deserve a good partner?
Update:  I fell in love with tonic water all over again when I first tried Q Tonic – it was the first high-quality brand I had. Since then I have added Fever-Tree Indian Tonic Water to my list. Given a choice between the two I would pick Fever-Tree mostly because it's a bit lighter and bubbles are more plentiful and Champagne-like. Don't worry – you can't go wrong with either.
Heath Tip:  Did you know that tonic water (any kind) helps with leg and foot cramps?  I have been suffering from them mostly at night for the last few years and they were only getting worse.  My friend, Regina L, who knows everything, said she drinks a glass of tonic water everyday and her leg and foot cramps have diminished greatly.  I tried it and I am agreement with her – and much happier.  And, in case you were wondering, my doctor also recommended drinking tonic water for foot and leg cramps.  So if you're having problems, try some tonic water before going to bed (with our without the alcohol).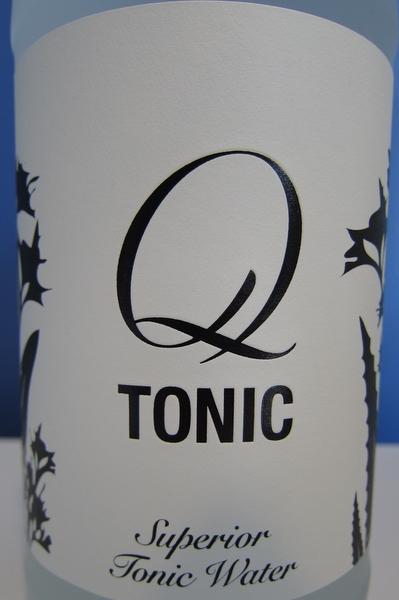 Where to purchase?  Wegmans and Whole Foods in the beverage aisle.
Learn more about Q Tonic or Fever Tree Indian Tonic