One of Ed's favorite foods is a hot dog. He still reminds me that our wedding wasn't truly official as we didn't serve pigs in blankets!* According to family history, his maternal grandfather's first meal after going through Ellis Island to reach the USA from Italy was a hot dog. This love of hot dogs was passed down to both Ed and his mother.
I take pretty much the opposite stance on hot dogs – I eat about one a year and when I do, it's usually on vacation on Lake Champlain. We started spending family vacations there when I was in college and at that time I was first introduced to a variation of the hot dog called a "red hot." They taste like a good quality traditional hot dog, but they are bright red (as opposed to a more subdued red). And, the only place that I have ever seen them is at the Village Meat Market in Willsboro, NY (also where we were first introduced to the flat iron steak a few years ago). This time when we visited we were able to introduce our friends, Carolyn and Jonathan R, to the wonders of red hots and they were pretty happy with them.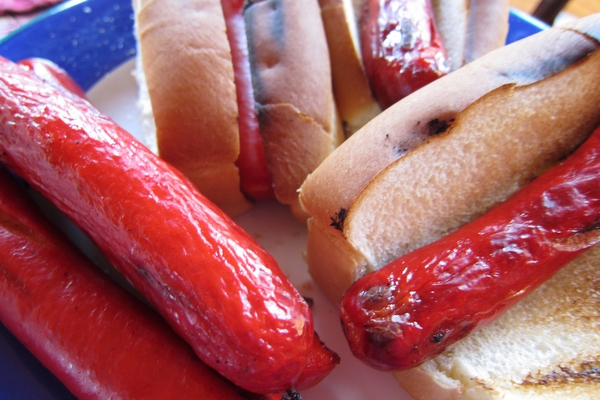 Ed and I can't eat hot dogs without a heated discussion about what to put on top of them. For me, I like a nicely grilled hot dog with a non-warmed bun with yellow mustard, relish and ketchup. Ed can't understand how anyone can put ketchup on a hot dog and he always reminds me of that. Ed prefers a grilled bun with mustard and sauerkraut (if available).
How do you like your hot dog?
* It appears that Ina Garten (Barefoot Contessa) and Ed have something in common. The current issue of Bon Appétit(October 2012) cites pigs in blankets as one of Ina's nostalgic favorites – much to her husband's dismay!