The theme for this month's Gourmet Dinner Club (GDC) gathering was "red and pink foods" to celebrate St. Valentine's Day. I volunteered for dessert and set about looking for something to satisfy this criteria.
While I have food coloring in my pantry, I couldn't tell you the last time I used it, so I stayed away from recipes that were unnaturally red or pink. When I came across this recipe on SmittenKitchen.com I knew this was the one. Chocolate and red wine in a cake? Why haven't I heard of this cake combination before? After all it's a well-established fact that chocolate and red wine are a winning combination.
My twist on the recipe was to make it gluten-free. I used my go-to flour, Cup4Cup, and it worked out smashingly. When pressed, my gluten-eating GDC friends said they were unable to tell the difference (it's been so long since I ate wheat I fear my tastebuds can't tell anymore!). I also added coarse sea salt to intensify the chocolate flavor – that worked, too. The cake may look like a dense flourless-chocolate cake but it's lighter in texture which makes it a bit easier to justify going back for seconds.
Don't leave out the cinnamon – it adds to both the flavor (great combination with chocolate – think Mexican hot chocolate) and the aroma. I prefer roasted Saigon cinnamon to regular cinnamon in general and especially for this cake.
In an effort to work a bit more pink into the dessert I topped the cake with a mascarpone cheese-Luxardo cherry drizzle. Cherries and chocolate – another good pairing. Any cherries will do although the benefit of using Luxardo cherries is there's some syrup, too. Simple whipped cream would be lovely, too.
The cake is still more chocolaty (brown) in color than red, but fortunately Deb B, our hostess for the evening, liked it so much she didn't mind that took a liberal interpretation of the theme. Did I mention that it's also very easy to make?
Of course, this cake can be made using regular all-purpose flour – using the same quantity as the gluten-free flour.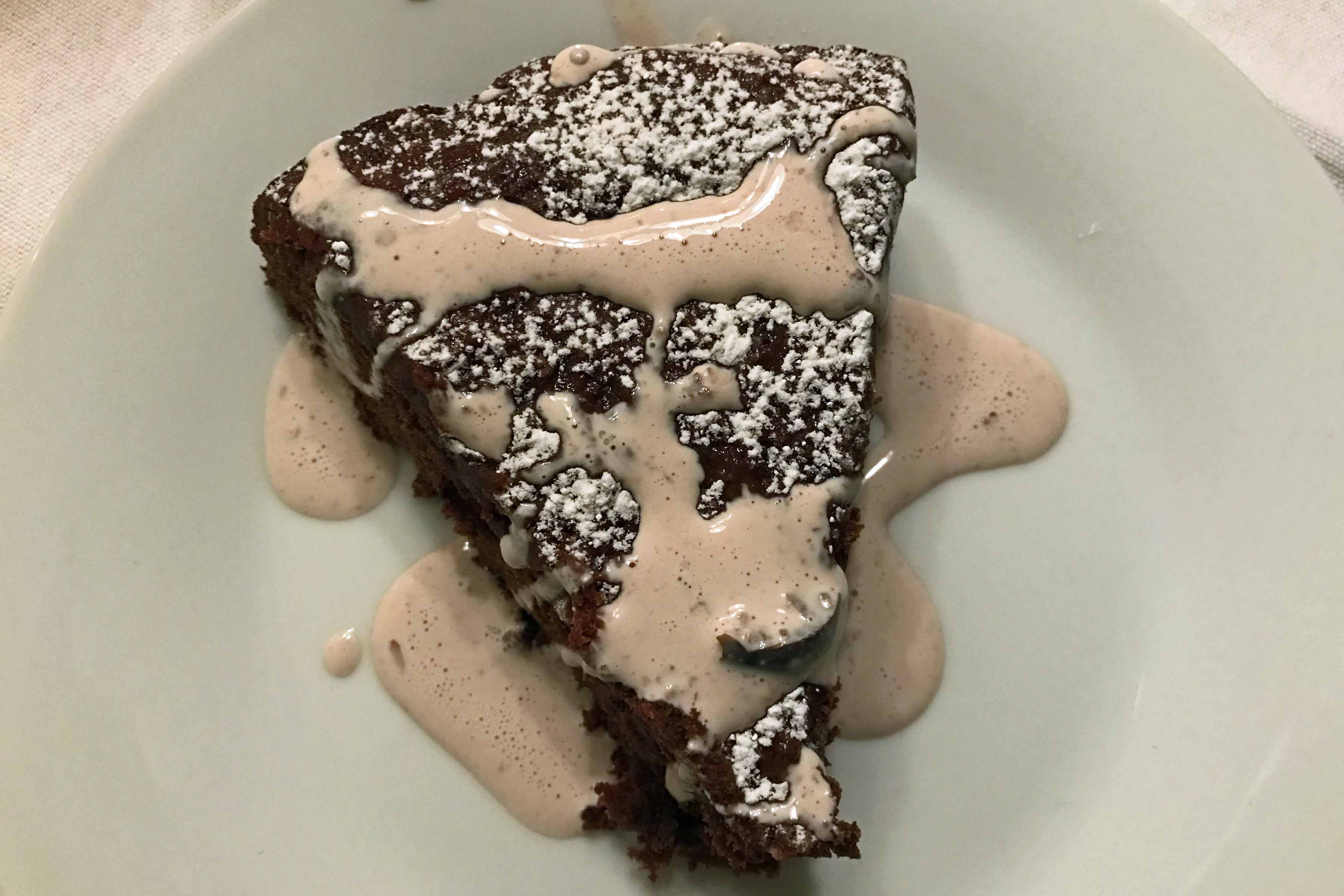 | | | |
| --- | --- | --- |
| Red Wine-Chocolate Cake (Gluten-Free) | | Print |
Ingredients
6 tablespoons unsalted butter, at room temperature
¾ cup firmly packed light brown sugar
¼ cup white granulated sugar
1 large egg + 1 large egg yolk, at room temperature
¾ cup red wine (something you'd drink)
1 teaspoon vanilla extract
1 cup plus 1 tablespoon gluten-free flour or all-purpose flour
½ cup Dutch processed unsweetened cocoa powder (plus more for dusting pan)
⅛ teaspoon baking soda
½ teaspoon baking powder
1 teaspoon coarse sea salt
¼ teaspoon ground cinnamon (preferably roasted)
Dust with powdered sugar
8 ounces mascarpone cheese
6 Luxardo Maraschino cherries
1 teaspoon Luxardo Maraschino cherry syrup (from jar)
½ teaspoon vanilla
Instructions
Preheat the oven to 325°F. Line the bottom of a 9-inch round cake pan with parchment. Spray or butter pan and dust with cocoa powder.
In a large bowl, on the medium speed of an electric mixer, cream butter until smooth. Add sugars and beat until fluffy, about 3 minutes. Add egg and egg yolk and beat well, then the red wine and vanilla. (Batter may have an odd consistency – don't worry as it will all come together).
Sift flour, cocoa, baking soda, baking powder, cinnamon and salt together. Mix into butter mixture until ¾ combined, then fold the rest together with a rubber spatula. Spread batter in prepared pan.
Bake for 25 to 30 minutes, or until a cake tester inserted into the center comes out clean. The top of the cake should be shiny and smooth.
Cool in pan on a rack for about 10 minutes, then remove from pan and cool to room temperature on a cooling rack. This cake keeps well at room temperature or in the fridge for 2 to 3 days.
For topping: Place mascarpone cheese, cherries, cherry juice and vanilla in a food processor. Process until smooth. Pour into a dish, cover and refrigerate overnight or for a few hours. If you prefer it more chunky, coarsely chop cherries with a knife and mix all ingredients together by hand.
Just before serving, dust with powdered sugar. Cut into slices and drizzle topping on each slice.
Notes
* I used
Cup4Cup Multipurpose Flour
. You can use the same amount of regular flour if you're not looking to make it gluten-free.
* Use a red wine that you'd drink.
* If you can't find
Luxardo Maraschino Cherries
use any kind of naturally colored cherry for the topping.
Source:  Adapted from SmittenKitchen.com