Artichokes are my most favorite food in the world. Perhaps you already knew that as I may have mentioned it once or twice. Recently I was grocery shopping and I came across a two pound container of baby artichokes that looked just perfect and I knew that I had to conquer my "foodie fear" of cooking them. I've been cooking big artichokes since I was a child but somehow have never made baby ones.  I picked them up figuring that I would find a way to cook them when I got home. I am so glad I did. Not only were they extremely easy to make but they tasted so good. I could have eaten another two pounds.
The wonderful part about baby artichokes is once you've trimmed them you eat the whole thing – leaves, insides and all. With a big artichoke you eat parts of the leaves and remove the thistle. So while you have to do some work to prep them you are rewarded with the finished product.
I've provided detailed instructions on how to prepare the baby artichokes below but in case you'd like a visual you can check out this video. Then I just tossed them with a few ingredients and roasted them in the oven. Simple. healthy and delicious. High season for baby artichokes is May and June.
Did you know that artichokes are also packed with antioxidants?  They're number 7 on the USDA's top 20 antioxidant-rich foods list.  Don't miss an opportunity to cook up these wonderful treats – I know that I will never walk by them again.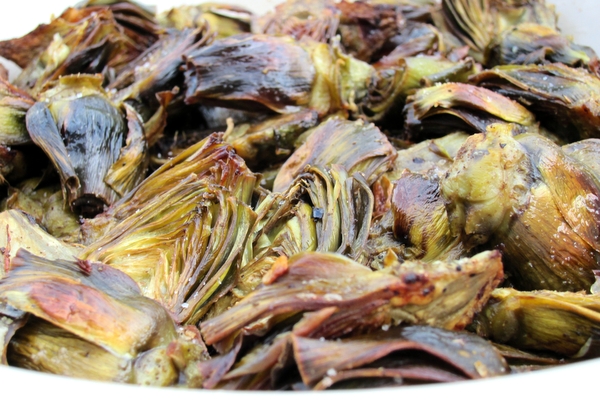 | | | |
| --- | --- | --- |
| Roasted Baby Artichokes | | Print |
Ingredients
2 pounds baby artichokes (each about the size of a lemon)
¼ cup extra virgin olive oil
2 lemons (divided)
½ teaspoon red pepper flakes
Fine sea salt
Freshly ground pepper
Instructions
Preheat oven to 400 degrees.
Using a sharp serrated knife, do the following for each artichoke: Cut off the bottom of the stem leaving about ¼ of an inch. Remove any small rough leaves from the base. Cut off about ½ inch from the top of the artichoke. Cut the artichoke in half lengthwise (leaving mirror images). Using your hands peel away the outside leaves on each half until you only have the softer leaves which are more light green or yellow in color (about 3 layers).
Cover two baking sheets (or large baking pans) with aluminum foil.
Divide the artichokes between the two baking pans.
Toss with olive oil, juice from one lemon juice, red pepper flakes, a generous amount of salt and a little freshly ground black pepper.
Roast for 20-25 minutes until they are golden brown and crispy on the edges, tossing a few times throughout.
Sprinkle with a bit more salt after removing from oven.
Cut up second lemon and serve with artichokes.
Can be served warm or at room temperature.
Notes
* If you're worried about the artichokes discoloring (like apples do) while you are cutting them up then put them in a bowl filled with cold water and the juice of one lemon.