"Oh my Darling, Oh my Darling, Oh my Darling Clementine." This song reminds me of my mom as she used to sing it and of the juicy little fruits that are popular at this time of year. I'm used to just peeling and eating them or perhaps adding them to a protein shake. But in this recipe they're cooked.
If you're going to cook carrots roasting them is by far my favorite way to do so. The clementine juice makes them just a bit sweeter. Adding roasted garlic provides nice garlic flavor without being overpowering as roasting it makes it more mild.
I used peeled baby carrots (about 3-inch long) which are in between petite carrots and traditional sized carrots. They roasted up quite nicely. If you use traditional sized carrots be sure to remove the tops and peel them. I served this alongside a grilled rack of lamb and it was a lovely combination.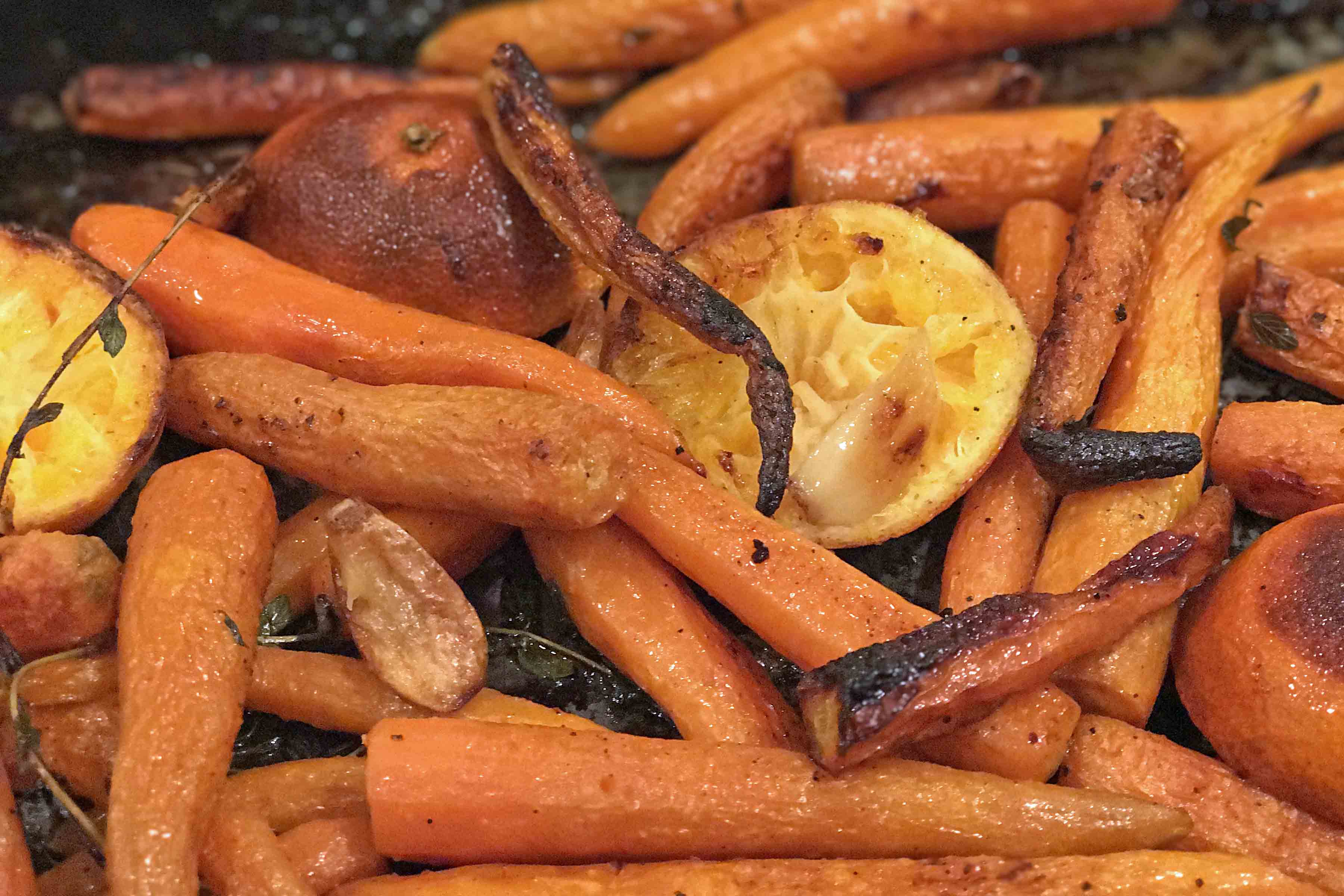 | | | |
| --- | --- | --- |
| Roasted Carrots with Clementines | | Print |
Ingredients
1 pound baby carrots, peeled
1 head of garlic
2 clementines, cut in half
1 tablespoon olive oil
3 thyme sprigs
Sea salt and pepper
Instructions
Preheat the oven to 425°F.
Peel carrots if they're not already peeled. If they're traditional sized carrots cut them into 3-inch pieces so they'll cook uniformly.
Peel garlic cloves from head of garlic.
Place carrots and garlic in a roasting pan in a single layer. Toss with oil and squeeze clementine juice all over carrots and garlic. Add clementine halves to the pan. Add thyme sprigs. Season with sea salt and freshly ground pepper.
Roast for about 45 minutes, shaking the pan a few times, until carrots are tender.
Serve warm or at room temperature.
Notes
Recipe can be doubled. You'll likely need two roasting in pans.
Source:  Adapted from Sainsbury's