This is a busy time of year with holiday gatherings and preparations. When there's not a lot of time to cook a meal this is perfect. Especially since it's all made in one pan.
While the recipe calls for a mild Italian sausage, Yukon Gold potatoes and vegetables, I chose to modify it slightly by using a Tuscan sausage (kind of a cross between a mild and sweet Italian sausage), a combination of sweet and Yukon Gold potatoes, plus red pepper-spinach mix. The roasted shallots and garlic are a must as they add flavor. I recommend adding red pepper flakes to taste for the same reason.
Please feel free to use another flavorful sausage (there are so many options especially if you have access to a farmers market), flavored oil and a handful of fresh herbs. Use your imagination – you really can't go wrong with any combination.
Gluten-Free/Wheat-Free Note: As long as your sausage is gluten-free this meal is both gluten-free and wheat-free.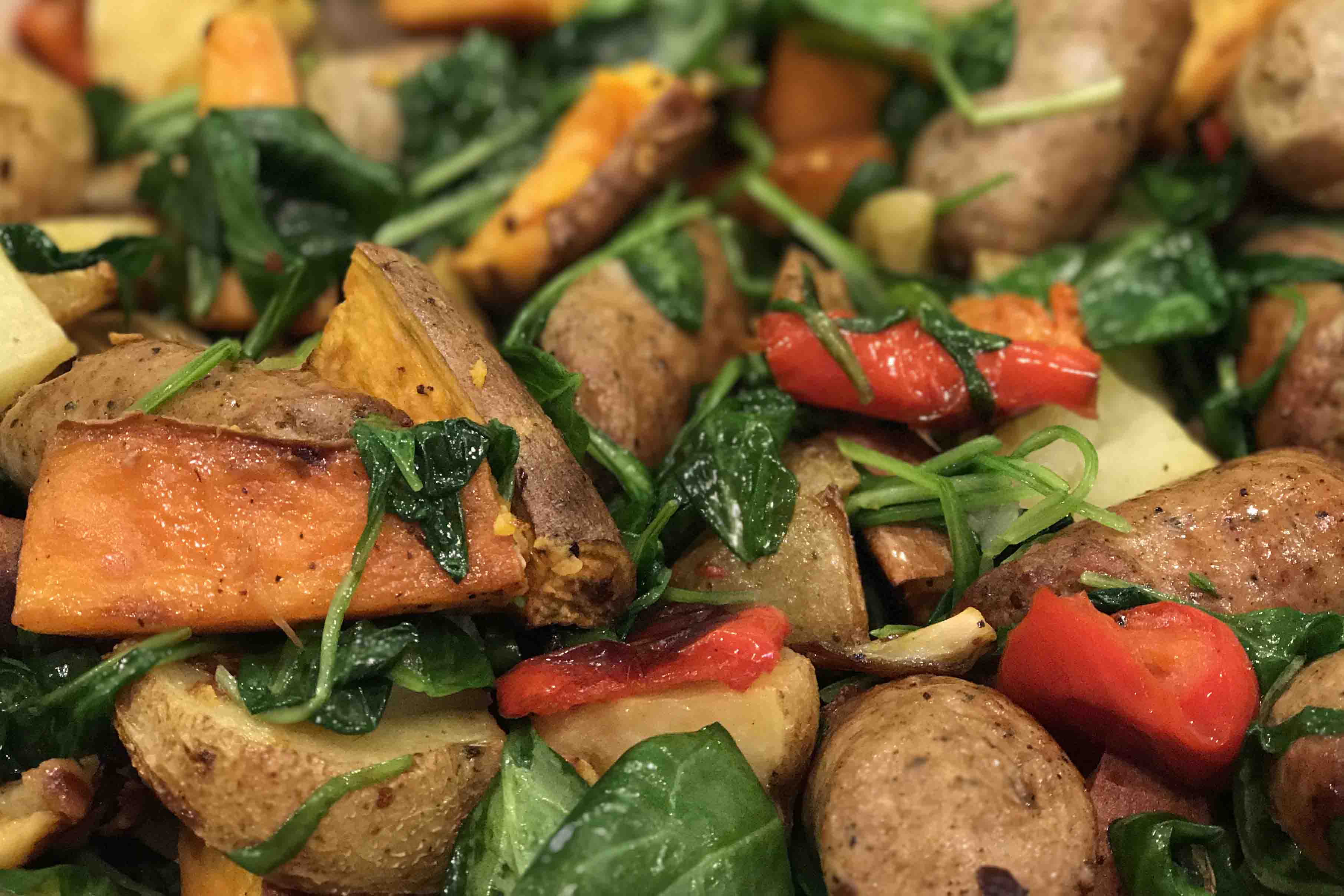 | | | |
| --- | --- | --- |
| Sausage-Potato-Spinach Bake | | Print |
Ingredients
4 Yukon Gold potatoes, cut into 1-1/2 inch pieces
1 large sweet potato, cut into 1-1/2 inch pieces
1 large red pepper, cut into 1 inch pieces
10 shallots, peeled and quartered
4 garlic cloves, peeled and halved
1 teaspoon crushed red pepper flakes
About ⅓ cup extra-virgin olive oil, plus more for brushing
Sea salt and pepper
1-1/2 pounds sweet Italian sausage, cut into 3-inch lengths
5 ounces fresh baby spinach
1 tablespoon freshly squeezed lemon juice
Instructions
Preheat the oven to 425°F.
In a bowl toss Yukon Gold potatoes, sweet potatoes, red pepper, shallots, garlic and red pepper flakes with ¼ to ⅓ cup of olive oil (until coated). Season with salt and pepper. Place on a large rimmed baking sheet.
Roast for about 25 minutes, until the potatoes are lightly browned. Toss sausage with a bit more olive oil in the same bowl. Add to sausage to baking sheet. Roast for 20 to 25 minutes longer, until the potatoes are tender and the sausage is cooked through.
Place spinach on a platter and top with baked mixture. Toss mixture until spinach wilts (about a minute). Toss with lemon juice and season with salt and pepper. Serve warm.
Notes
* Recipe can easily be doubled or tripled.
* Use your imagination as you can change up the potatoes or sausage, use flavored oils or add fresh herbs.
Source:  Variation on recipe from Food & Wine