When my friend, Wendy M, shared a link to this recipe, I knew I had to make it. It's not often that I find a slow cooker recipe that I like that involves very little work. Most include pre-slow cooker steps such as browning the meat. This one is the exception.
The original recipe included artichokes and sun dried tomatoes – two of my favorite things. I added to it kalamata olives, capers and white wine and raised the count to five of my favorites. Put it all together in one slow cooker and simply let it cook unattended. This last part is key as you want to minimize the amount of time that you remove the lid from your slow cooker as it quickly decreases the temperature.
This is a busy time of year and this recipe is just what is needed to get a hot and very satisfying meal on the table without a lot of active time. I recommend serving it over brown rice or pasta so you can soak up the good juices.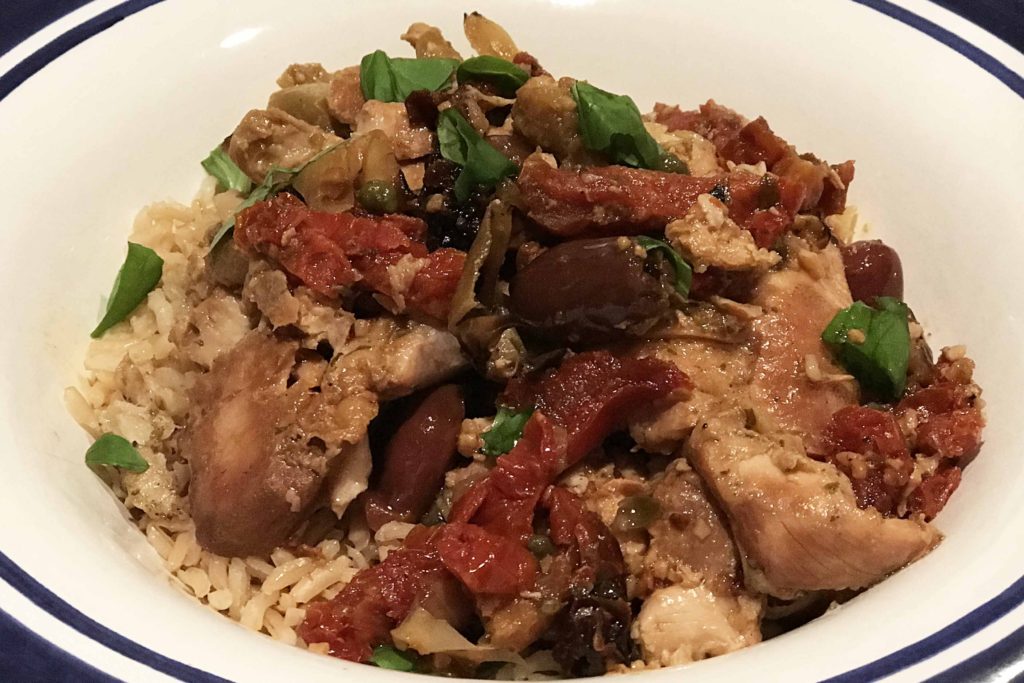 | | | |
| --- | --- | --- |
| Slow Cooker Chicken with Artichokes and Sun Dried Tomatoes | | Print |
Ingredients
8 boneless chicken thighs with skin removed
2 tablespoons chopped fresh oregano
1 jar (15 ounces) marinated artichoke hearts (preferably grilled), ¼-cup liquid reserved
3 ounces of sun dried tomatoes (julienne cut)
1 cup kalamata olives, pitted
3 ounces capers, drained and rinsed
4 garlic cloves, minced
½ cup dry white wine
3 tablespoons chopped fresh basil
Serve over brown rice or pasta
Instructions
Spray 5 to 6-quart slow cooker with cooking spray.
Season chicken thighs with salt and pepper. Add to slow-cooker in one layer – it's okay if they're folded.
Place artichoke hearts, sun dried tomatoes, kalamata olives, capers and garlic on top of chicken.
Pour reserved artichoke liquid and white wine over top.
Cover and cook on high for 4 to 4-1/2 hours or low for 6 hours – until chicken is tender. If more liquid is needed, add additional white wine.
Before serving break up chicken into large chunks and stir with sauce.
Transfer to a plate or bowl and sprinkle with freshly chopped basil.
Source:  Adapted from Diethood.com