This month marks 10 years of the forming of our Gourmet Dinner Club (GDC). While the members of our group may have changed the overall theme of the group has not. We have been and continue to be all about sharing food, wine, laughter and friendship.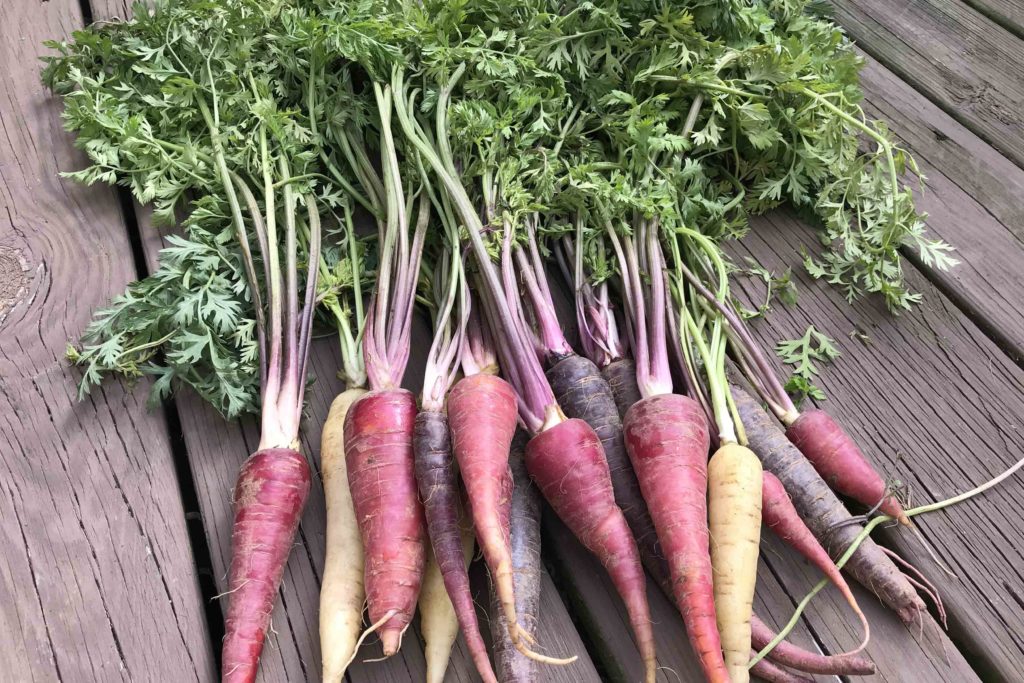 Each month the hostess picks the theme. To celebrate 10 years Cathy R suggested 10 Spanish Tapas. We enjoyed chorizo with capers, domino potatoes, two types of green salads, shrimp, tortilla espanola with a spicy pepper sauce and a few other yummy dishes. I contributed a piece of Mahon (a hard Spanish cheese) and fresh figs, a homemade Manchego-Mango ice cream and Spanish Marinated Carrots.
Ten years ago when we first met it was Deb's birthday and our anniversary gathering fell on her birthday again this year. We celebrated both birthdays with a piece of "birthday cheese" – who needs a cake or cupcake when you can put a candle on a piece of cheese?
I decided that I wanted to do something with carrots and was even more excited when I saw these glorious bunches of organic baby colored carrots at B&H Organic Produce at the Growing Roots' Malvern Farmers Market. The red ones were extra special – when peeled they were orange. Did you know that orange carrots didn't come into fashion until the 17th century? Earlier carrots were purple, white and yellow. According to carrot lore, the Dutch growers cultivated orange carrots as a tribute to William of Orange who led the struggle for Dutch independence.
I used a simple but flavorful dressing with the Spanish influences showing in the sherry vinegar and sweet smoked paprika. These carrots get better with age so plan to make them at least a few hours ahead of serving and preferably the day before. As long as you don't overcook them they will stay crisp.
A thank you to our previous GDC members (Jackie R, Marty H, LuAnn D, Diana A and Cindy J) and to those who carry on the tradition (Deb B, Cathy R, Bryn S and Moira B). I love our time together and cooking with all of you. Here's to many more years together.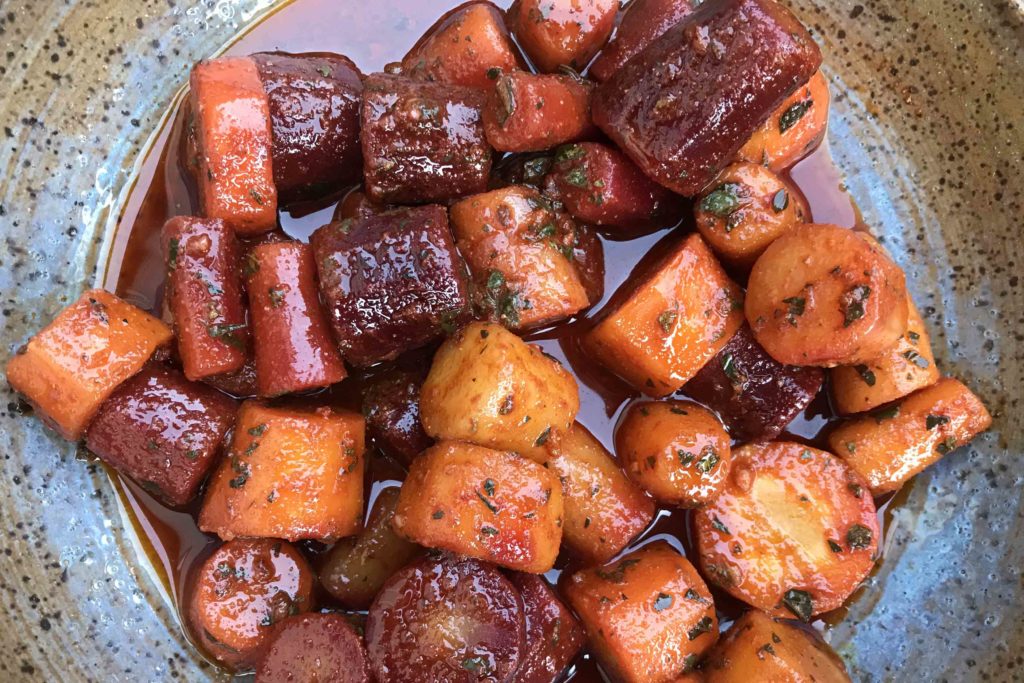 | | | |
| --- | --- | --- |
| Spanish Marinated Carrots | | Print |
Ingredients
12 to 15 small carrots (preferably multi-colored)
2 cloves of garlic, minced
2 tablespoons fresh oregano, finely chopped
2 teaspoons cumin
2 teaspoons smoked sweet Spanish paprika
¼ cup sherry vinegar
¼ cup extra virgin olive oil
Sea salt and freshly ground pepper
Instructions
Fill a large pot with water and bring to a boil.
Peel carrots and cut into rounds – about 1-inch long.
Add carrots to gently boiling water (you may need to adjust the heat) and cook until crisp-tender, about 10 minutes. Be careful not to overcook as you don't want them to get mushy.
Drain carrots in a colander and rinse under cold water.
Mix garlic, oregano, cumin, paprika, vinegar, salt and pepper in a small bowl. Whisk in olive oil.
Place carrots in a large bowl and pour dressing over until lightly covered. Reserve extra dressing. Don't worry if you put too much dressing on.
Cover and let marinate in the refrigerator for at least 2 hours or up to 2 days to allow the flavors to meld. Add more dressing before serving if needed.
Served chilled or at room temperature.