"We lived very simply – but with all the essentials of life well understood and provided for – hot baths, cold champagne, new peas and old brandy."  ~ Winston Churchill
Based on this quote I'm sure that Winston Churchill would like this soup –  it's simple and truly highlights the sweetness of peas. The soup itself has only five ingredients (and actually uses frozen peas). If you want to make it extra fancy, crisp some Spanish Serrano ham or Italian prosciutto to finish off the soup. This is quite possibly one of the easiest hot soups you can make. Perhaps you'd like to serve it with some cold champagne?
Holiday Tip:  You can make the soup a few days in advance and refrigerate it or freeze it for a few months. Heat it up and top it with the ham.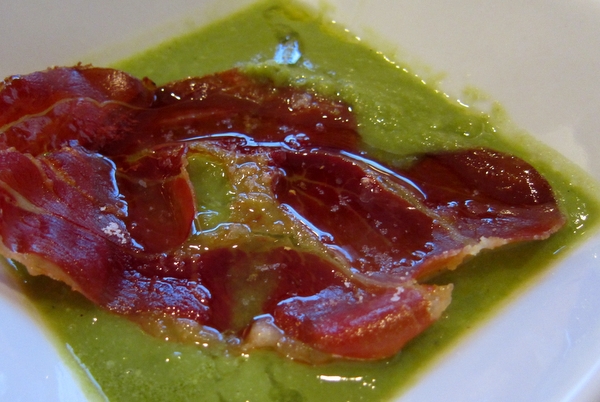 | | | |
| --- | --- | --- |
| Spring Pea Soup with Serrano Ham | | Print |
Ingredients
2 tablespoons good quality extra virgin olive oil, plus more for drizzling.
2 large shallots, chopped
3 garlic cloves, minced
4 cups chicken broth or stock
2 pounds frozen green peas (~ 6-1/2 cus)
6 thin slices Spanish Serrano ham or Italian prosciutto
Instructions
Heat oil in a 4 to 5 quart pan over medium heat.
Add shallots and cook for about 3 minutes or until shallot is soft and lightly browned.
Add the garlic and cook for 1 minute.
Add the chicken broth or stock and peas and bring to a boil.
Turn the heat to low and simmer for 5 minutes.
Using a Vitamix, immersion hand blender, regular blender or food processor, puree the soup until smooth. Season with salt and pepper. Return soup to the pot and keep warm on low heat.
Preheat the oven to 425°F.
Place the ham in a single layer on a cookie sheet and roast for 5 to 8 minutes, until crisp.
Serve the soup in shallow bowls with a slice of crispy ham on top.
Garnish with a drizzle of olive oil.
Notes
* Keeps for a few days in the refrigerator or freezes well. Cook ham while heating up soup.
* Ham can be omitted for a vegetarian option.
Source:  Adapted from Ina Garten's Barefoot Contessa Foolproof (2012)