This week I am co-hosting our 12th annual cookie swap at my office, a favorite holiday tradition. It's a simple event – everyone brings 4 dozen of the same cookie and leaves with a variety of cookies. For the second year in a row, we are counting our cookies and reporting our total to Cookies for Kids' Cancer. For every cookie swapped, Glad® will donate a $1 up to $100,000 towards fighting Cancer in children.
I have many favorite cookies from many years of swapping, but one that comes to mind is from Bruce C who left our company a few years ago. He made these Russian Tea Cakes every year and I always looked forward to them. Now I make them myself during the holidays. There's just a few ingredients and they are so tasty and very easy to make – think of your favorite shortbread dipped in powdered sugar. They are the perfect holiday cookie and they look festive, too.
I opted to name these for our Siberian Forest cat, Talia. I hope Bruce C doesn't mind.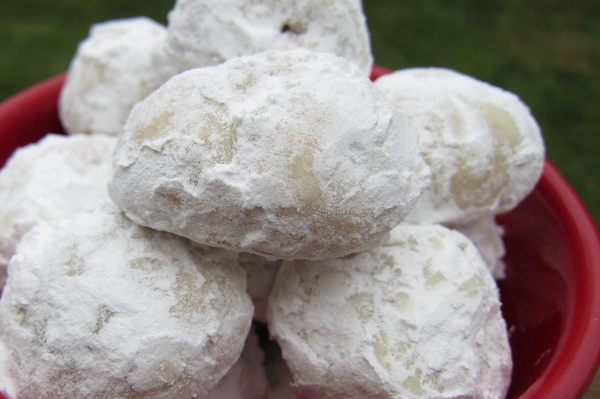 | | | |
| --- | --- | --- |
| Talia's Russian Tea Cakes | | Print |
Serves:
Makes 2-1/2 dozen.
Ingredients
½ cup powdered sugar
1 cup (2 sticks) unsalted butter, softened
1 teaspoon vanilla extract
2-1/4 cups flour
½ cup chopped pecans
About ⅓ cup additional powdered sugar for coating
Instructions
Preheat oven to 400°F.
Cream butter, sugar and vanilla until fluffy and fully mixed.
Slowly add flour to creamed mixture, blend thoroughly
Add nuts and mix well
Chill dough for 1 hour.
Shape into 1-inch balls and bake 8-10 minutes. Place about an inch apart on the cookie sheet – the don't "melt" much so it's okay if they are close. Do not brown – dough will look uncooked when ready.
Cool and then roll in powdered sugar.
Notes
* Recipe can easily be doubled and fits well into a 4.5 quart KitchenAid stand mixer.
* Trader Joe's sells chopped pecan pieces (Unsalted Dry Roasted Pecan Pieces) that are the perfect size for these cookies and other cookies – no need for any additional chopping.
* Cookies freeze well for up to 3 months. Layer between parchment paper or waxed paper in a freezer-safe container.
* If I'm putting these in a bag with other cookies as a gift, I like to put them first in a small bag and then add that small bag to the larger bag which I fill with the remaining cookies. That way the powdered sugar doesn't get all over the other cookies.