In the summer of 2014 we took a trip to Nashville to visit with family. Knowing how much we love to eat Mark and Peggy J ensured that we tried lots of local fare including the landmark Loveless Cafe.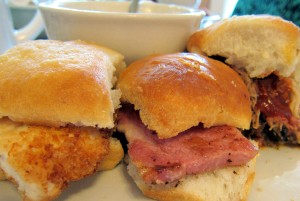 Cafe may be the wrong image – it's more of a compound as it originally started as a motel. Over the years the motel space has been converted into various out buildings including shops and an on premises smokehouse. The food is traditional southern comfort food with particular attention paid to their world-famous biscuits. Ed enjoyed the biscuit sampler platter while I went for a pimento cheese omelette (not something I can get up north). After seeing their desserts on the way to our table I couldn't resist picking up a cookbook, Desserts from the Famous Loveless Cafe by Alisa Huntsman (pastry chef at the Loveless and Culinary Institute of America graduate) so I could try some at home.
I was recently looking for a dessert to make for a southern-inspired Gourmet Dinner Club (GDC) meal and this cookbook did not let me down. I decided on the Tipsy Cake as the name seemed quite fitting for this group of friends. How could I go wrong with a dense cake full of lots of good things and bourbon?
The story goes that the original Tipsy Cakes were made with a famous (not to be named) Tennessee sour mash whiskey. Once this whiskey became too expensive they switched to bourbon. Bourbon is a favorite in our house so we applaud that move.
While the original recipe calls for all-purpose flour I used Cup4Cup multipurpose flour (you'd be hard pressed to tell the difference) and added mini-chocolate chips as a little chocolate is never a bad idea. I served it with a simple mascarpone topping that was a perfect complement to this yummy cake.
Seeing as the Kentucky Derby is just around the corner (May 7) this would also make a lovely addition to a Derby spread. But really both the cake and topping can be enjoyed all year long. The topping would also be great on top of fruit or anything that needs a bit of sweetness. Beware people may be licking the bowl – they GDC ladies couldn't get enough of it!
Gluten-Free/Wheat-Free Options:  While the ingredients used to make bourbon contain gluten many believe that the distillation process removes the gluten. As a result, some with gluten sensitivities are okay with bourbon while others are not. If you're concerned use rum (distilled from sugar cane and gluten-free) in place of bourbon.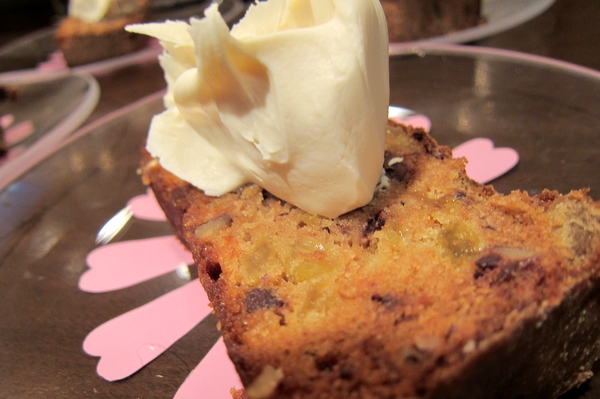 | | | |
| --- | --- | --- |
| Tipsy Cake with Mascarpone Topping | | Print |
Ingredients
1-1/4 cups golden raisins
½ cup plus 6 tablespoons bourbon
½ cup (1 stick) unsalted butter, at room temperature
1 cup packed light brown sugar
¼ teaspoon salt
3 eggs
1-1/4 cups unbleached all-purpose flour or gluten-free flour
¾ teaspoon baking soda
¼ teaspoon freshly grated nutmeg
¾ cup pecan pieces
½ cup mini-chocolate chips (semi-sweet)
8 ounces mascarpone cheese
1-1/2 tablespoons mild honey
½ teaspoon pure vanilla extract
Instructions
Preheat the oven to 325°F. Grease and flour a 9"x5" loaf pan.
In a small saucepan, bring golden raisins and ½ cup of bourbon to a boil over medium-low heat. Immediately remove from heat and let raisins steep until cooled completely. (This can be done a few hours in advance.)
In a mixing bowl, cream butter, brown sugar and salt together with an electric mixer on medium speed until light and fluffy.
Add eggs, one at a time, scraping bowl before each addition.
Sift flour, baking soda and nutmeg over the batter and fold a few times.
Add raisins (with bourbon), pecan pieces and mini-chocolate chips.
Fold batter together thoroughly.
Spoon batter into loaf pan (it will be thick).
Bake for 60 to 70 minutes, or until a toothpick inserted in center of a cake comes out clean.
Let cake cool in pan for 10 minutes.
Turn cake out onto a rack and brush (top and sides) with remaining 6 tablespoons bourbon.
Let cake cool completely before slicing.
Before serving whisk mascarpone cheese, honey and vanilla in a small bowl.
Top each slice with a generous dollop of topping.
Notes
* Recipe works well with all-purpose flour or gluten-free flour (such as
Cup4Cup Multipurpose Flour
).
* You can use a gold/amber or dark rum in place of bourbon to ensure it's 100% gluten-free.
* Cake freezes well.
* Topping can be made a day in advance.
Adapted from Alisa Huntsman's Desserts from the Famous Loveless Cafe (2011)