Growing up, Campbell's Tomato Soup was a staple in my house. I'm sure you know the one I'm talking about – red and white label with the word "condensed" which meant you had to add water or milk to it. I have fond memories of eating it for lunch along with "cheese toast" (otherwise known as a piece of cheese melted on toast). This combination has come a long way since my childhood – I was recently served a shooter of tomato soup with a grilled cheese bite at a wedding as a passed hors d'oeuvre. Yummy.
I was looking for a recipe for a healthier version of tomato soup and came across this one. I liked it because it incorporated tasty basil, did not have any dairy and had some whole grains (brown Basmati rice) to make it more hearty and healthy, plus I could adjust the amount of salt.
There's nothing "condensed" about this soup – it's full of flavor and good for you. Perfect for a cold winter day. Oh, if you want to be "bad" go ahead and serve it with your favorite grilled cheese sandwich (or "cheese toasts").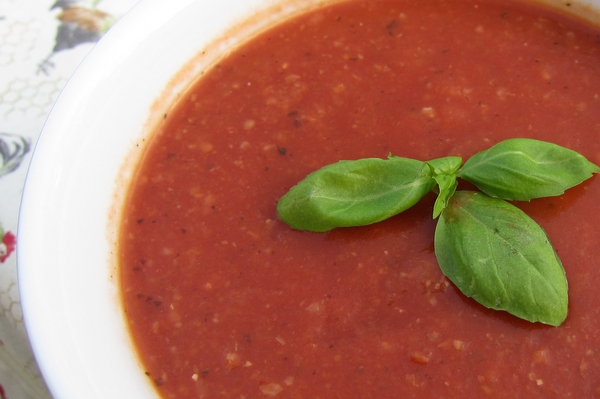 Ingredients
2 tablespoons extra virgin olive oil
1 cup diced carrots
1 cup diced celery
2 cups chopped onions (about 2 medium)
3 cloves of garlic, minced
3 bay leaves
6 ounces (1 can) tomato paste
⅓ cup brown Basmati rice
¼ teaspoon cayenne pepper
1 tablespoon dried basil
1-1/2 quarts (6 cups) vegetable broth
1 can (28 ounces) crushed tomatoes
Salt and pepper to taste
¼ cup fresh basil, chopped for garnish
Instructions
Heat olive oil in large pot (4 to 5 quarts) over medium heat.
Add carrots, celery, onions, and garlic. Cook, stirring occasionally, about 8 minutes until softened, but not browned.
Add bay leaves. Cook 3-4 minutes. Reduce heat to low.
Add tomato paste. Cook 3-5 minutes, stirring often.
Add rice; stir to coat. Cook 2 minutes.
Add cayenne pepper and dried basil; stir.
Add broth and crushed tomatoes, stir.
Raise heat to medium-high and bring to a boil.
Reduce heat to low; simmer 40-50 minutes until the rice is cooked.
Discard bay leaves.
Using a Vitamix, immersion hand blender, regular blender or food processor, purée the soup in batches until smooth. Return the soup to the pot. Season with salt and pepper.
Garnish each serving with freshly chopped basil.
Source:  Variation of a recipe from Wegmans Menu Magazine (Winter 2013).