We recently gathered in Delmar, NY (a suburb of Albany) for a Powers/Packer family reunion and the whole family made the trek to the Delmar Farmers' Market to get a bit of local flavor. One of my favorite things to do when I travel is to go to food stores or farmers' markets as you never know what tasty things you will find. Before we could explore the many stands, we first had to visit with Miata the 30 year old pony – quite a treat for my niece Mia K (age 8), sister Dixie J, and, cousin-in-law Amy C, and me, too.
I had a "purpose" and that was to build a cheese plate.  So, I was very excited to see not one, but three different cheeses stands. I started with The Cheese Traveler which sells cheeses from within 100 miles of the Albany in New York and New England.  They had lots of yummy options and I decided to let the "fromager" make some suggestions. I selected Shaker Blue (sheep) from Old Chatham Sheepherding Company in Old Chatham, NY; a smoky Frere Fumant (sheep) from 3-Corner Field Farm in Shushan, NY; and, Pawlett (cow) from Consider Bardwell Farm in West Pawlett, VT.   I then moved onto Goats & Gourmets in Westerlo, NY, where I tasted a dill goat cheese spread and a beet, onion and feta mix. While both were very good, they were not quite what I was looking for, so I made my way to the third cheese stand. At R & G Cheese Makers from Cohoes, NY, I narrowed it down to a truffle goat cheese and a Camembert goat cheese – ultimately deciding on the Camembert (and, so glad I did!). And, then on an impulse, I added a prosciutto and mozzarella roll.
Cheese was all secured.  But, something was missing until I saw the Lloyd Spear's honey stand (from Schenectady, NY). I was intrigued by the Local Honey Infused with Wellington's Dried Rosemary as I thought that combination would pair nicely with the cheeses I had selected (plus, it would be a nice addition to my honey collection at home). I also got some honeycomb, as Ed loves that with cheese.
After cheese shopping, we headed to the Four Corners Luncheonette's food cart with the family and Ed and I shared a Greek crepe.  So good. We've eaten at their full-scale restaurant in Delmar a few times and have loved all of our meals there.
That evening, back at my Aunt Jill and Uncle Bruce's, my cousin, Rogan C, and I set out to create some tasty hors d'oeuvres. The cheese plate was easy and a great excuse to use my Great Aunt Eleanor's silver cheese knives.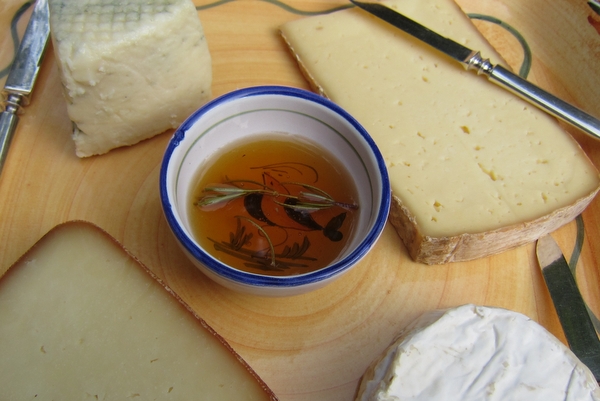 Clockwise (L to R):  Old Chatham Sheepherding Company's Shaker Blue, Consider Bardwell Farm's Pawlett, R & G Cheese Makers' Camembert and 3-Corner Field Farm's Frere Fumant and Lloyd Spear's Rosemary Honey (center).
Rogan C went above and beyond – slicing up the prosciutto and mozzarella roll and placing the slices atop fresh tomatoes that Amy C and he had brought from their garden in Auburn, ME, and finishing it off with some balsamic vinaigrette and fresh basil from Aunt Jill and Uncle Bruce's garden.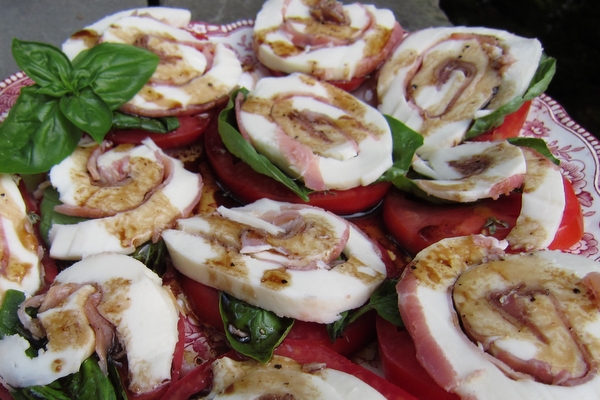 R & G Cheese Makers' Prosciutto and Mozzarella Roll with fresh tomatoes, basil and balsamic vinaigrette.
We served both plates with sliced baguette and an assortment of crackers. I knew I had made some good selections as there were a lot of happy faces.
The Delmar Farmers' Market has a lot to offer.  And, even though the summer harvests may soon be over, there are lots of food that you can enjoy well into the fall from your local farmers' market (such as cheese and honey!). Make a trip and let what you see inspire you to create something tasty.