I'm not very good at saying "no" when asked asked to volunteer for something. In fact one of my StrengthsFinder 2.0 strengths is "Responsibility." Part of the description reads "your willingness to volunteer may sometimes lead you to take on more than you should." So even though my life is pretty busy, I couldn't resist the opportunity to work on a collaborative cookbook for an organization of which I'm a member.
We've collected many wonderful recipes and are now going through the "hard work" (someone has to do it, right?) of testing them. I had the good fortune of making Helen S's long time favorite recipe, Walnut and Coconut Cake, for a recent tasting party we had. In order to stay true to the recipe, I used all-purpose flour so I wasn't able to test it but it got good reviews from those who eat gluten.
Since Ed and I were having dinner with my parents the following night, I thought I'd test out a smaller version of the cake with some gluten-free flour and variation on the flavors (that's what you see below). I used a blend of Cup4Cup Multipurpose Flour and King Arthur Flour's Ancient Grains Flour Blend. The Ancient Grains Flour Blend is made with 30% each amaranth, millet and sorghum flours and 10% quinoa flour making it both entirely whole grain and gluten-free. It provides a bit more texture to a cake or bread.
While I kept the sweetened coconut, as it adds moisture to the cake, I replaced the coconut extract with rosemary extract and finely chopped fresh rosemary. I had picked up the rosemary extract on a recent trip to the Culinary Institute of America's bookstore in Hyde Park, NY (the best college bookstore ever) and was looking for an excuse to use it. The fresh rosemary came from what remains of my herb garden. It turns out that walnuts, coconut and rosemary are a winning combination.
Not only did I share this cake with my parents, but I also shared it with my cookbook recipe tester friend, Lisa D, who in turn shared it with her family. Rave reviews all around and nobody at all seemed to mind that it was gluten-free. Not looking to make it gluten-free? No worries, you can use a combination of all-purpose flour plus whole wheat flour or an ancient grains blend.
More to come on this fun cookbook project in the future.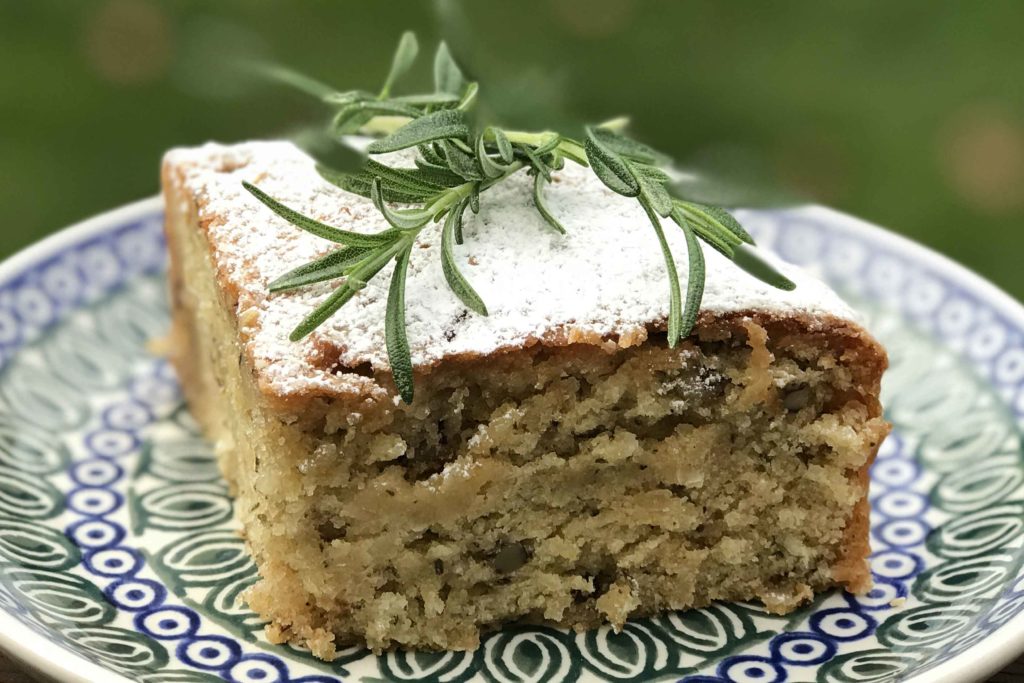 | | | |
| --- | --- | --- |
| Walnut-Rosemary-Coconut Cake (Gluten-Free) | | Print |
Ingredients
1 cup sugar
½ cup canola oil
2 large eggs
1 cup gluten-free all-purpose flour (see Note)
½ cup ancient grains flour (gluten-free) (see Note)
¼ teaspoon baking soda
¼ teaspoon baking powder
¼ teaspoon salt
1 tablespoon finely chopped fresh rosemary
½ cup buttermilk (see Note)
1 teaspoon rosemary extract
½ cup chopped walnuts
½ cup sweetened flaked coconut
6 tablespoons sugar
3 tablespoons water
1 tablespoon unsalted butter
1 teaspoon rosemary extract
Garnish with powdered sugar
Instructions
Preheat oven to 350°F. Wrap an 8-inch springform pan with two sheets of aluminum foil. Spray bottom of pan with cooking spray and line with a round of parchment paper (bottom only). Spray paper and sides of pan and dust with gluten-free flour.
In the bowl of a stand mixer, beat sugar, oil and eggs for 2 minutes on high.
In a separate bowl, combine both flours, baking soda, baking powder, salt and chopped rosemary.
In a measuring cup combine buttermilk and rosemary extract.
Alternate adding flour mixture and buttermilk mixture (beginning and ending with flour mixture) to sugar mixture, beating well after each addition.
Stir in walnuts and coconut.
Pour mixture into prepared pan. Bake for 60 to 70 minutes until a toothpick comes out clean.
A few minutes before cake comes out of the oven, prepare the syrup. Combine sugar, water and butter in a small saucepan. Bring to a gentle boil over high heat and turn down to low for 5 minutes to simmer. Remove syrup from heat and stir in rosemary extract.
Remove cake from oven and immediately pour hot syrup over cake. Let cool for 4 hours. Remove sides of springform pan, invert cake onto a plate, remove bottom of springform pan and parchment paper and invert again onto a cake plate.
Dust with powdered sugar just before serving.
Notes
* Don't have an 8-inch springform pan? Use a loaf pan. Remove cake from pan before pouring hot syrup on cake. Use a pastry brush to brush syrup on sides of cake.
* Gluten-Free flours: I recommend a combination of
Cup4Cup Multipurpose Flour
and
King Arthur Flour's Ancient Grains Flour Blend
.
* With Gluten flour: I recommend a combination of all-purpose flour (with gluten) and whole wheat flour or an ancient grains flour blend such as King Arthur Flour's Ancient Grains Flour Blend.
* I recommend using
SACO Cultured Buttermilk Blend
in place of fresh buttermilk. You'll find it in the baking section of your grocery store. Follow directions on the container for use. It keeps for a few years refrigerated so you always have buttermilk on hand.
* For rosemary extract, I used
Star Kay White Extracts Pure Rosemary Extract
.