This month's Gourmet Dinner Club (GDC) theme was "cooking with alcohol." It's not just drinking while cooking (although that's fine with me, too) – the food itself had to contain alcohol. Our hostess, Marty H, was making a beer chili and since I had a side, I decided to make some beer bread to go with it (as one can never have enough beer).
I have made beer bread in the past, but wanted to try a new recipe and found a perfectly simple one from Sara Moulton (supplied to her by one of her fans) that I could adapt. The recipe called for "good quality beer." I took this directive very seriously thanks to my dad as he made learning to appreciate "good beer" part of my college education. His tutelage paid off as I headed for the single bottle beer section at Wegmans and picked out a Samuel Smith Oatmeal Stout to make this bread knowing a dark beer or stout works well in beer bread.
The bread turned out well – great combination of good beer, whole wheat flour (so it's a bit healthy), rosemary and butter (okay, maybe not so healthy). The beer acts as the yeast in the bread making it so easy to make – there are no excuses not to make up a batch of this bread.
I did enjoy the extra beer since the bottle was bigger than 12 ounces.  So, I guess "cooking with alcohol" had a dual meaning after all.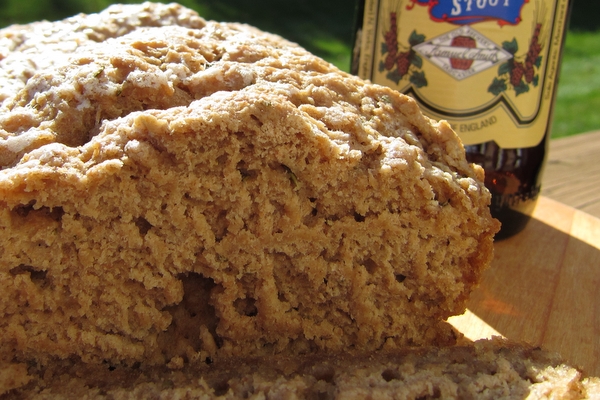 | | | |
| --- | --- | --- |
| Whole Wheat-Rosemary Beer Bread | | Print |
Ingredients
6 tablespoons (3/4 stick) unsalted butter
1 cup whole wheat flour
2 cups unbleached all-purpose flour
3 tablespoons sugar
1 tablespoon baking powder
1 teaspoon salt
1-1/2 tablespoons freshly chopped rosemary
One 12-ounce bottle of good-quality beer (recommend a dark beer or stout)
Instructions
Place an oven rack in the upper third of the oven and preheat the oven to 350ºF.
Place the butter in a 13 x 9 x 2-inch baking dish or pan and set it in the oven while the oven is preheating.
Stir together the flour, sugar, baking powder, salt and rosemary in a medium bowl.
Stir in the beer until it is just incorporated (The dough will be sticky and heavy.) Pour 5 tablespoons melted butter out of the pan into a cup; tilt the pan to coat the bottom and sides with the remaining butter (1 tablespoon).
Spoon the bread dough into the pan and spread evenly; drizzle the 5 tablespoons melted butter over the top.
Bake for 25 to 30 minutes, or until the bumpy top is golden brown.
Halfway through baking tilt the pan to distribute the butter (in case it has pooled).
Remove the bread from the oven to a cooling rack; cut the bread into rectangles and serve warm.
Notes
* Bread freezes well. I recommend heating it up wrapped in aluminum foil.
* You can substitute unbleached all-purpose flour for whole wheat flour, if you prefer (use 3 cups unbleached all-purpose flour instead of 1 cup whole wheat flour and 2 cups unbleached all-purpose flour).
* Rosemary is optional (but recommended).
* I used Samuel Smith Oatmeal Stout.
Source:  Variation of a recipe from Sara Moulton's Everyday Family Dinners (2010)