As much as I love a good guacamole, I'm always looking for different ways to prepare avocados. One of the first replies I received on my website was from Limerock Orchards (walnut growers in Paso Robles, California) who had commented on a recipe that I had posted using walnut oil. After reviewing their site I knew that I had to prepare their recipe that combined avocados and walnut oil. When you make this recipe you will taste how the walnut oil adds a bit more depth to the avocados.
I served this tasty spread with toasted multi-grain baguette slices along with goat cheese and a smokey blue cheese. The avocado-walnut butter stands well on its own but also pairs nicely with cheeses. It also makes a great spread for sandwiches (turkey and avocado is one of my long time favorites).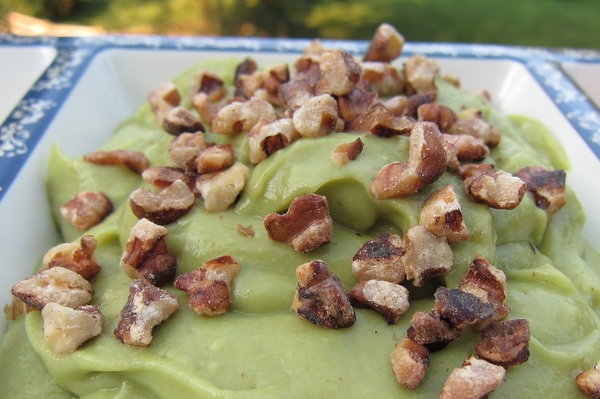 | | | |
| --- | --- | --- |
| Avocado-Walnut Butter | | Print |
Serves:
Makes about 2 cups
Ingredients
3 avocados (preferably organic)
2 tablespoons fresh lemon juice
¾ teaspoon cayenne pepper
½ teaspoon fleur de sel salt (or other coarse sea salt)
6 tablespoons walnut oil
Toasted multi-grain baguette slices
Optional: garnish with 2 tablespoons chopped roasted walnuts
Instructions
Cut avocados in half and remove pit and skin.
Place avocados in food processor. Add lemon juice, cayenne pepper and salt. Process until smooth - scraping down the sides. With motor running slowly drizzle in the walnut oil and process until smooth.
Cover and chill for one hour.
Garnish with 2 tablespoons chopped roasted walnuts, if desired.
Serve with toasted multi-grain baguette slices.
Notes
To toast baguette slices: slice baguette at an angle and place pieces directly on an oven rack (it may be easier to remove the rack from the oven to do this). Bake at 425°F for 5-6 minutes until crispy. Let cool.
Source:  Adapted from Limerock Orchards