Black bean soup is one of my favorites. It's both satisfying and flavorful. And this recipe is almost as easy as opening a can of pre-made soup.
Start with the basics – onions, garlic, black beans and tomatoes. I like to add a bit of meat in the form of prosciutto (preferably already diced for you) but any pork product will do such as pancetta, bacon or diced ham. If you want to make this vegetarian you can leave it out.
What makes this soup stand out is the addition of the chipotle pepper in adobo sauce. I discovered this flavorful canned pepper combination many years ago when I first made Shrimp with Adobo Sauce and since then I always have a can on hand.
Chipotles are simply smoked and dried jalapeños. Adobo sauce is a tangy red sauce made from tomatoes, vinegar, garlic and spices. Together they form a winning combination. The heat comes from both the peppers and the sauce. By removing the seeds from the pepper you also decrease the heat. I'm not partial to foods that are too spicy but I do enjoy chipotles in adobo. However I am careful to not use too much as a little goes a long way. It's likely you'll open a can but not use all of the peppers and sauce. If that's the case place what's left in a small ziplock bag or two and freeze so you always have some on hand.
This soup is simple to prepare and is sure to keep you warm for the last few weeks of winter. According to Pennsylvania's favorite groundhog, Punxsutawney Phil, the cold weather will be with us until mid-March.
Check out Epicurious' Why You Should Be Cooking With Chipotle in Adobo to learn more about this pantry secret.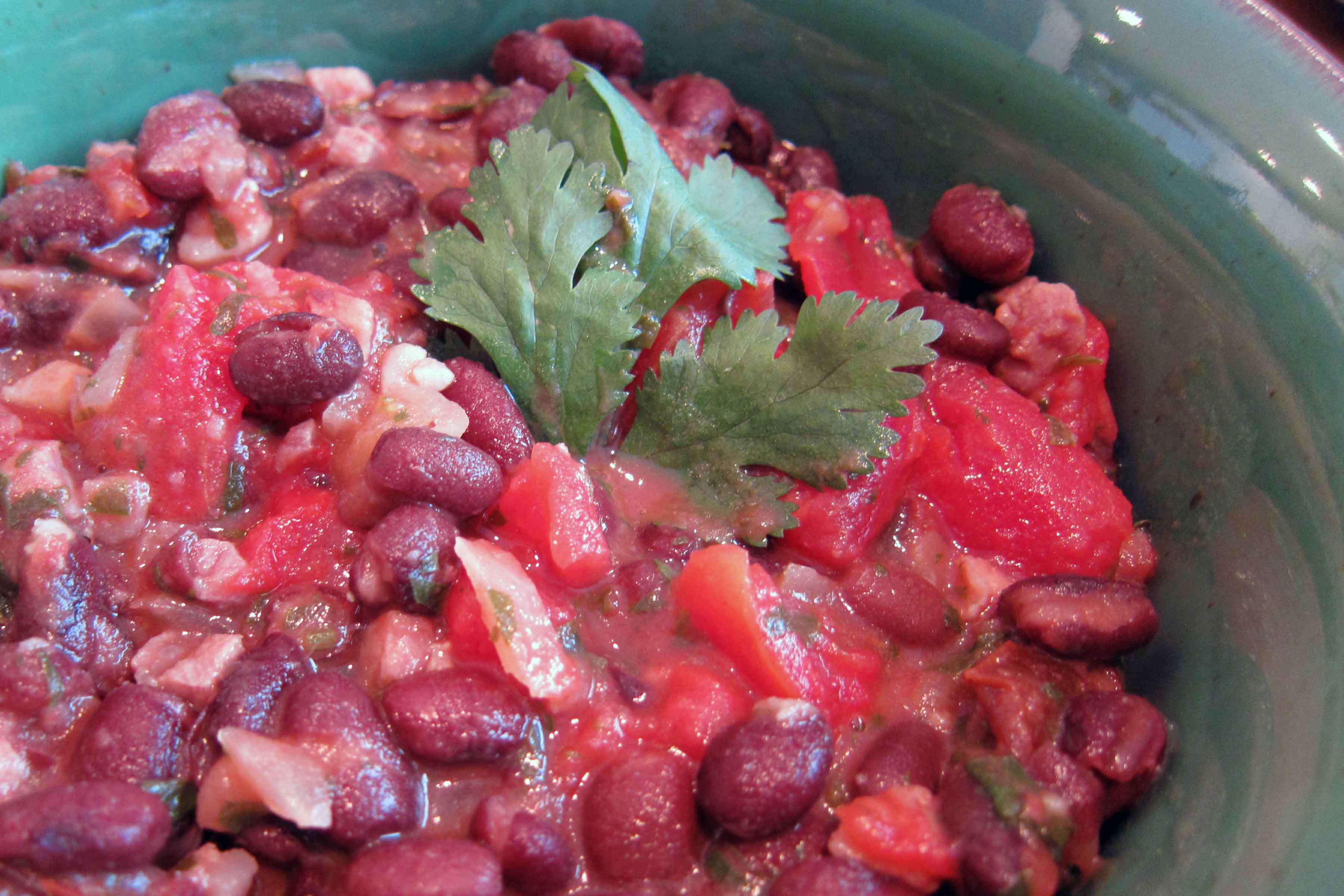 | | | |
| --- | --- | --- |
| Black Bean and Prosciutto Soup | | Print |
Ingredients
2 teaspoons olive oil
1 medium onion, chopped
3 cloves of garlic, minced
4 ounces diced prosciutto
1 chipotle pepper plus 1 tablespoon adobo sauce, minced
1 cup chicken broth
1 can diced tomatoes, not drained
2 cans black beans, drained and rinsed
1 handful of cilantro, chopped
juice of 1 lime (~ 1 ounce)
Instructions
In a medium soup pot (3 to 4 quarts), warm olive oil over medium-high heat.
Add onion and garlic; cook until tender, about 4 minutes, stirring occasionally.
Add prosciutto and cook for 1 minute, stirring occasionally.
Add chipotle pepper and adobo sauce and cook for 1 minute, stirring occasionally.
Add chicken broth, tomatoes (with juices) and beans.
Bring the soup to a boil over high heat, then reduce the heat to low and simmer for 10 minutes.
Stir in chopped cilantro and lime juice. Cook for an additional 5 minutes.
Season with salt and pepper and serve.
Notes
* Soup freezes well. Let cool and place in freezer-safe containers.
* Recipe doubles easily – use a 7 quart soup pot.