This is a little remedy for the winter blues – a vividly colored and bold pesto. Here I've paired it with black beans and sautéed long hot green peppers (which really aren't very hot) for a simple side.
The pesto is made with cilantro and pepitas (pumpkin seeds) rather than the traditional basil and pine nuts. My parents recently shared this tip with me – using pepitas in place of nuts removes the allergy issue from the recipe.
This recipe makes double the amount of pesto that you'll need. I served this side with pork chops and some additional pesto on the side. If you don't use all of the pesto it will keep for a week in the refrigerator or frozen for up to three months.
It was a nice sauce for the pork chops and would work well with fish, chicken or eggs, too.
Tip:  If you have time, try cooking dried beans. It's super easy and they taste better than canned beans.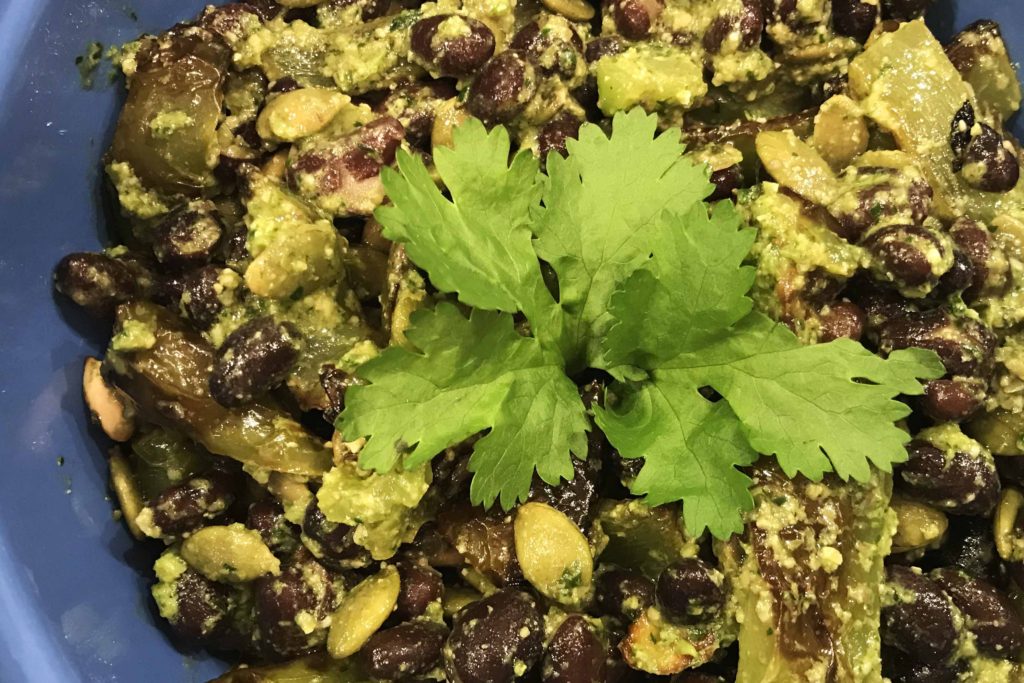 | | | |
| --- | --- | --- |
| Black Beans and Long Hot Green Peppers with Cilantro Pesto | | Print |
Ingredients
4 long hot green peppers, seeds removed and cut into short strips
⅔ cup plus 1 teaspoon extra virgin olive oil plus
1 cup (4.5 ounces) pepitas (pumpkin seeds), divided
1 cup lightly packed cilantro leaves and stems
⅓ cup grated Pecorino-Romano cheese
3 garlic cloves, skins removed
1 tablespoon freshly squeezed lemon juice
1 jalapeño pepper, seeds removed and deveined
2 15.5 ounce cans of black beans, rinsed and drained
Instructions
In a frying pan over medium heat, heat 1 teaspoon extra virgin olive oil. Sauté long hot green peppers until soft and slightly browned, about 7 to 9 minutes. Remove from heat and let cool.
Preheat toaster or regular oven to 350°F. Place pepitas on a rimmed cookie sheet and roast until fragrant and start to darken, about 5 to 7 minutes. Let cool and remove set aside ⅓ cup for pesto.
In a food processor, blender or Vitamix, add ⅓ cup of pepitas, cilantro, cheese, garlic cloves, lemon juice, jalapeño pepper and sea salt. Blend until combined. With motor running, add extra virgin olive oil in a steady stream until pesto comes together. Taste and add salt as needed.
In a medium bowl, combine black beans, long hot green peppers, remaining pepitas and ½ cup pesto. Toss go coat and add more pesto if needed. Let sit for an hour at room temperature or for a few hours in the refrigerator for flavors to develop. Serve at room temperature.
Notes
Recipe makes about 1 cup of pesto so you will likely have leftovers. It will keep for a week in the refrigerator or frozen for up to three months.