Back in 1984 President Ronald Reagan declared July as National Ice Cream Month and called for all people of the United States to observe this with "appropriate ceremonies and activities." I really don't need an excuse to eat ice cream but I am more than happy to celebrate its goodness this month.  Here's a recipe to help you celebrate.
Start with a sauce that is velvety smooth and full of good flavor. It's a perfect time to showcase the best of the summer blackberries but you can use frozen blackberries instead, just be sure to thaw them first. If you think making caramel sounds hard it really isn't – just be sure to watch it carefully – when it turns an amber color (think a bit lighter than maple syrup) it's ready for the final step.
While you can use store-bought ice cream for this recipe, if you have any inclination to make it yourself this Vanilla Bean Ice Cream is well worth the effort as it is some of the best ice cream I have ever tasted (I have made the homemade version many times from Jeni's Splendid Ice Creams at Home cookbook and recently had the real thing in one of Jeni's scoop shops in Nashville).
The smooth blackberry caramel goes really well with the creamy vanilla ice cream – for the final touch add a sprinkling of toasted coconut. I think this is just what President Reagan had in mind!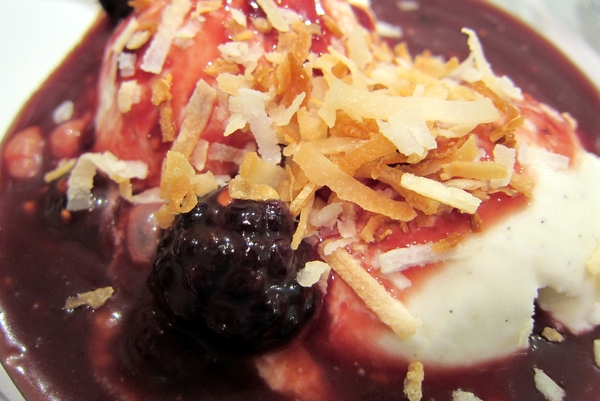 | | | |
| --- | --- | --- |
| Blackberry Caramel Sauce with Vanilla Bean Ice Cream | | Print |
Ingredients
2 cups blackberries (8 ounces), divided
¾ cup plus 2 tablespoons sugar
½ cup heavy cream, warmed
2 teaspoons blackberry liqueur or Chambord
½ teaspoon vanilla extract
Pinch of salt
Serve with Vanilla Bean Ice Cream
Toasted sweetened shredded coconut, for garnish
Instructions
In a small saucepan, combine 1 cup of blackberries with 2 tablespoons of sugar and 1 tablespoon of water. Cook over moderate heat, stirring occasionally, until the berries start to burst.
Transfer the berries and any juices to a Vitamix or blender and purée until nearly smooth. Transfer purée to saucepan and let cool slightly.
Warm heavy cream in microwave on medium for about 2 minutes.
Whisk in cream, blackberry liqueur, vanilla and salt into purée.
In a medium saucepan,combine the remaining ¾ cup of sugar with ¼ cup of water. Cook over moderate heat, swirling the pan and brushing down the side with a wet pastry brush, until the sugar dissolves.
Cook undisturbed until an amber caramel forms, about 7 minutes (candy thermometer reaches 230°F).
Carefully add blackberry cream (it may boil vigorously) and simmer, whisking, until caramel is smooth, 1 to 2 minutes.
Let cool slightly, then stir in the remaining 1 cup of blackberries; let cool to room temperature.
Toasted Coconut: Preheat oven to 325°F. Spread coconut flakes on a baking sheet in a thin layer and bake in preheated oven. The flakes will toast very quickly and won't take more than 5-10 minutes. After a few minutes stir the coconut to help ensure even color. A reminder that sweetened flakes will take less time because sugar speeds the toasting process.
Notes
* The blackberry caramel sauce can be refrigerated for up to 3 days. Bring to room temperature before serving.
* Coconut can be toasted a day ahead – store in an air tight container at room temperature.