I've found that most people have a strong preference for either vanilla or chocolate ice cream. While I tend to lean towards all things chocolate, I've learned to love a good vanilla ice cream so I was thrilled when I found this recipe.
I haven't been disappointed by anything I've made from Jeni Britton Bauer's Jeni's Splendid Ice Creams at Home cookbook. This is the only ice cream cookbook you'll ever need – I promise. While it takes time to make homemade ice cream and you'll dirty a lot of dishes – it's well worth the effort.
Serve this ice cream on its own or with Blackberry Caramel Sauce.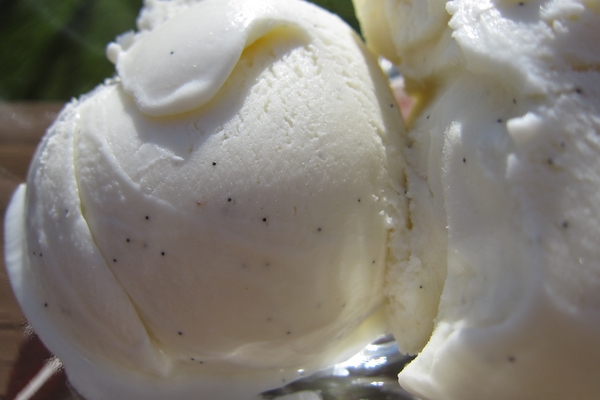 | | | |
| --- | --- | --- |
| Vanilla Bean Ice Cream | | Print |
Serves:
Makes a generous 1 quart
Ingredients
2 cups whole milk
1 tablespoon plus 1 teaspoon cornstarch
1-1/2 ounces (3 tablespoons) cream cheese (full fat) or crème fraiche, softened
⅛ teaspoon fine sea salt
1-1/4 cups heavy cream
⅔ cup sugar
2 tablespoons light corn syrup
1 vanilla bean, split, seeds scraped out, seeds and bean reserved
Instructions
Prep
For the ice cream base: Mix with a fork about 2 tablespoons of milk with cornstarch in a small bowl to make smooth slurry. Whisk cream cheese or crème fraiche and salt in a large bowl until smooth. Don't worry if mixture sticks to the whisk.
Fill a large bowl with ice and water.
Cook
Combine remaining milk, cream, sugar, corn syrup and vanilla seeds and bean in a 4 or 5-quart saucepan, bring to a rolling boil over medium-high heat and boil for 4 minutes. (Watch the pan so mixture doesn't boil over.)
Remove from heat and gradually whisk in cornstarch slurry.
Bring mixture back to a boil over medium-high heat and cook, stirring with a heatproof spatula, until slightly thickened, about 1 minute.
Remove from heat.
Gradually whisk hot milk mixture into cream cheese mixture until smooth (it may be easier to transfer the hot milk mixture to a 4-cup measuring cup if your saucepan is heavy).
Chill
Pour mixture into a 1-gallon Ziploc freezer bag and submerge the sealed bag in the ice bath.
Let stand, adding more ice as necessary, until cold, about 30 minutes.
Alternately, if you are not finishing the ice cream on the same day you can chill the mixture in refrigerator for up to 2 days.
Freeze
Remove the vanilla bean. Pour the ice cream mixture into the frozen canister of your ice cream maker and spin until thick and creamy.
The ice cream is finished at the exact moment when the machine isn't freezing the ice cream anymore; ice cream will begin to pull away from the side (about 20-25 minutes).
Pack ice cream into a freezer-safe storage container, press a sheet of parchment paper directly against the surface, and seal with an airtight lid.
Freeze in the coldest part of your freezer until firm, at least 4 hours and up to a few weeks.
Source:  Variation of a recipe from Jeni Britton Bauer's Jeni's Splendid Ice Creams at Home (2011)