When searching for inspiration for cocktails often the best places to find it is cocktail lists at the bar at a nice restaurant. Even if I'm drinking wine I'll often browse the menu and take some pictures just in case I want to make one at home. While I may not have the exact recipe for the cocktail from the menu it's usually enough for me to work with. And there have been times where a bartender has been gracious enough to share more details.
This Old Fashioned was inspired by one that Ed enjoyed at the bar at the Kimberton Inn in Kimberton, Pennsylvania. The Inn was built in 1796 and recently expanded its cozy bar to seat more people. It's the kind of bar that's good for a drink or a casual meal.
In addition to tasting a great drink we learned about The Scarlet Ibis Trinidad Rum. It was originally made for Death & Co, a cocktail bar that in New York City that is largely responsible for the inspiring the craft cocktail movement. Fortunately this not too sweet/on the dry side rum is now more widely available. I was able to order it from the Pennsylvania Wine & Spirits Store for about $30/bottle.
An Old Fashioned is made by muddling sugar with bitters, adding alcohol (usually bourbon or whiskey) and finishing it off with a twist of citrus (check out Papi's Old Fashioned). Here you use rum instead of bourbon or whiskey. While rum is often thought of as tropical, in this case it's a perfect replacement for the traditional liquor as it maintains the integrity of the drink. Any aged gold rum will do in this libation, however I do recommend staying away from a white, dark or spiced rum (their place is elsewhere).
Plus, rum is naturally gluten-free/wheat-free so perfect for those cocktail lovers who avoid grain-based spirits.  
Look for more Death & Co-inspired drinks as I gave Ed their beautiful recipe book for his birthday.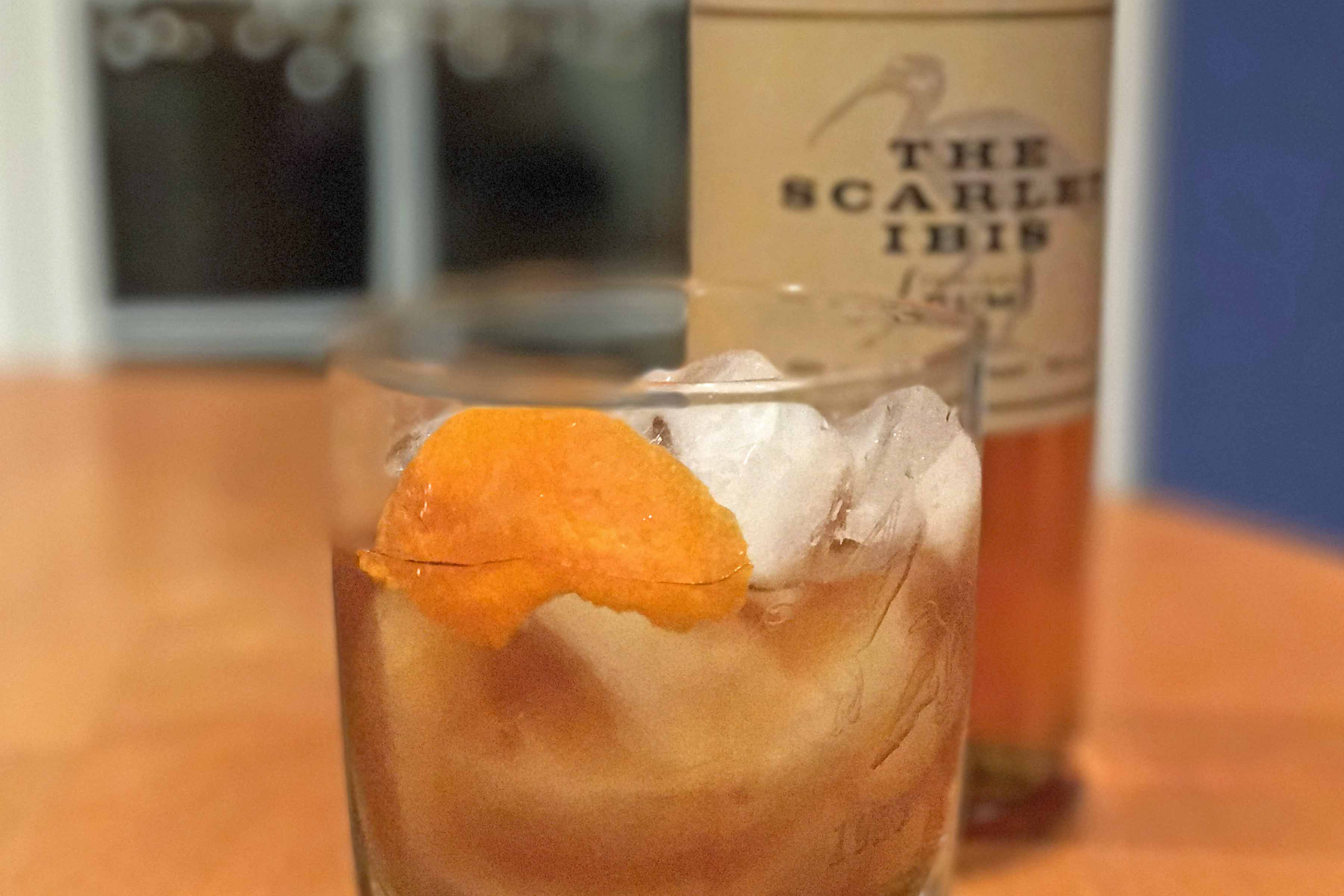 | | | |
| --- | --- | --- |
| Caribbean Old Fashioned | | Print |
Ingredients
2 ounces aged gold rum
¾ ounce turbinado cane sugar simple syrup (see Notes)
2 splashes of Angostura bitters
2 splashes orange bitters
A bit of juice from the cherry jar
Garnish: orange twist and cherry
Instructions
Put all the ingredients in a cocktail shaker and stir for 2 minutes.
Strain into a double old fashioned glass filled with ice.
Garnish with a orange twist and cherry.
Notes
* I recommend making one drink at a time. But in a pinch you could double or triple the recipe.
* For the rum: use
The Scarlet Ibis Trinidad Rum
(if you can find it) or any good quality aged gold rum.
* For orange bitters try
Regans' Orange Bitters No. 6
* For cherries use
Luxardo Maraschino Cherries
or
Tillen Farms' Merry Maraschino Cherries
* You can use traditional Simple Syrup in place of Turbinado Cane Sugar Simple Syrup.
* TURBINADO CANE SUGAR SIMPLE SYRUP
1 cup (8 ounces) water
1 cup turbinado cane sugar (Sugar in the Raw)
Bring the water to a simmer in a saucepan set over medium-high heat. Add the sugar and stir until it completely dissolves. Remove the pan from the heat. Set aside to cool to room temperature. Pour the syrup into a clean 1-pint bottle, cap it and refrigerate it until needed. Makes 1½ cups and keeps two months or longer in the refrigerator.