A few weeks ago I was at the Frecon Farms (from Boyertown, PA) stand at the Growing Roots' Farmers Market in Malvern, PA drooling over all of their amazing fresh fruit. Lisa O'Neill (the mastermind behind Growing Roots) was helping out at the stand (as she so often does) while spouting out recipes – one of which was her take on a traditional mint julep. You just never know where you'll find inspiration for your next cocktail.
Lisa likes to add tart cherries to a mint julep. The only additional work is pitting the cherries as you can muddle the mint and cherries at the same time.  Lisa prefers to use sour (tart) cherries. I opted for the sweet cherries as I knew there would be a few leftover that Ed and I would eating.  
While I'm sure you could add a Maraschino cherry to a mint julep and muddle it, it wouldn't be the same. This drink is meant to capture that fresh, ripe cherry flavor along with some good fresh mint (hopefully from your garden?).
I highly recommend investing in a simple cherry pitter (often billed as a cherry and olive pitter) if you do not already have one. It makes what can be somewhat of a tedious task easier and you tend to get more of the fruit off of the pit. Be careful when pitting cherries at this time of year as they are especially juicy and tend to splatter.
Gluten-Free/Wheat-Free Options: While the ingredients used to make bourbon contain gluten many believe that the distillation process removes the gluten. As a result some with gluten sensitivities are okay with bourbon while others are not. If you're concerned use a gold rum (distilled from sugar cane and gluten-free) in place of bourbon. Rum and fruit always go well together.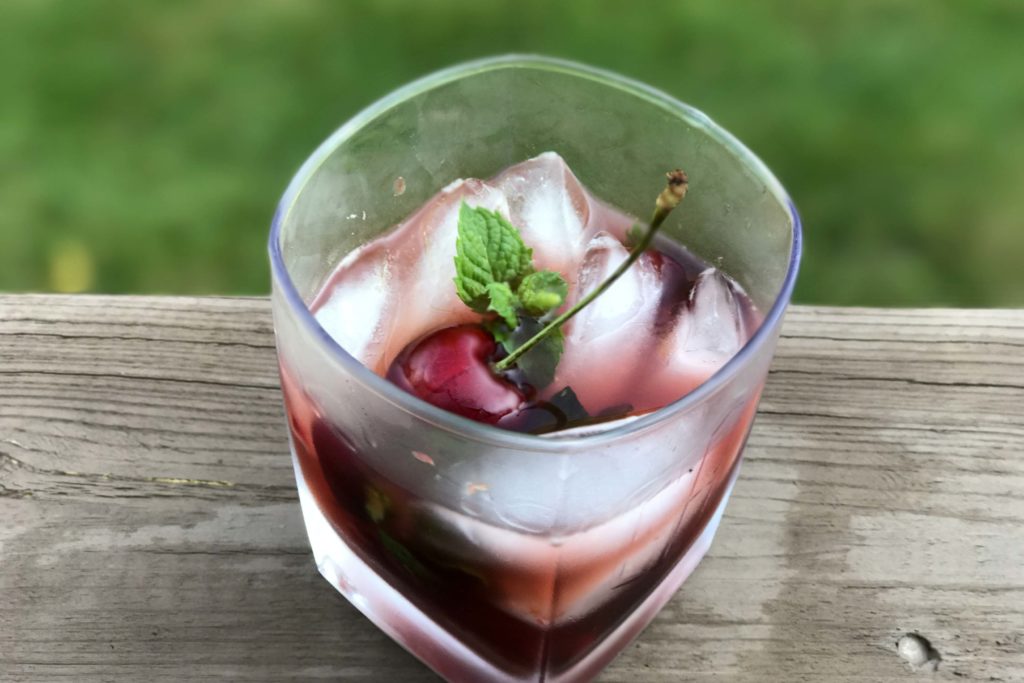 | | | |
| --- | --- | --- |
| Fresh Cherry Mint Julep | | Print |
Ingredients
1 ounce simple syrup (see Notes)
8 fresh mint leaves, plus a sprig for garnish
4 fresh cherries, pitted and sliced in half
2 ounces high-quality bourbon
Instructions
Place simple syrup, mint and cherries in an old fashioned (or rocks) glass.
Using a wooden muddler or back of a wooden spoon, muddle the syrup, mint and cherries together to form a good syrup.
Fill cup with small ice cubes or shaved ice.
Poor in bourbon.
Mix all ingredients with a spoon.
Garnish with a sprig of mint and a cherry.
Notes
SIMPLE SYRUP
1 cup (8 ounces) water
1 cup granulated sugar
Bring the water to a simmer in a saucepan set over medium-high heat. Add the sugar and stir until it completely dissolves. Remove the pan from the heat. Set aside to cool to room temperature. Pour the syrup into a clean 1-pint bottle, cap it and refrigerate it until needed. Makes 1½ cups and keeps two months or longer in the refrigerator.