Looking for the perfect gluten-free/wheat-free cookie? Look no further as here it is. Prior to going wheat-free this was my favorite cookie (the "with wheat" version, of course) so I knew that I had to see if it was adaptable in a wheat-free world. Gluten-free flour mixes often change the consistency of the food so I thought that starting with a cookie made of oatmeal would be helpful as the oatmeal could mask some of that consistency difference and I was right. I also found a gluten-free flour mix, Cup4Cup, that was developed at Thomas Keller's French Laundry by Lena Kwak, so I thought that was a positive sign – if it is good enough for one of the best restaurants in the country, it's worth a try.
I have done a few taste tests with the wheat flour version and with the gluten-free flour version and friends have been surprised how close they are. And most admit that if I hadn't told them that one was gluten-free they would never know.
The only changes I made to the original recipe was to use the Cup4Cup flour and Bob's Red Mill Gluten-Free Old Fashioned Rolled Oats. Yes, oats are not made with wheat, but there's a lot of cross-contamination and Bob's Red Mill guarantees that their products are truly gluten-free. Cup4Cup is just as the name suggests – substitute a cup of it for regular all-purpose flour. Note that I have had success using it in two different recipes  – but that's not enough for me to say it's foolproof.
Has reading all of this made you hungry for some cookies? I've donated the "with wheat" version of this cookie to the Phoenixvlle Community Educational Foundation fundraiser silent auction this Friday, February 28. Get two dozen cookies to take home with you and then another six dozen when you have a craving. Closer to the date you can bid online even if you're not able to attend the event. Forgive me, it's a good cause so I'm being a bit pushy!
Don't skimp on the salt – it's what makes this cookie so good.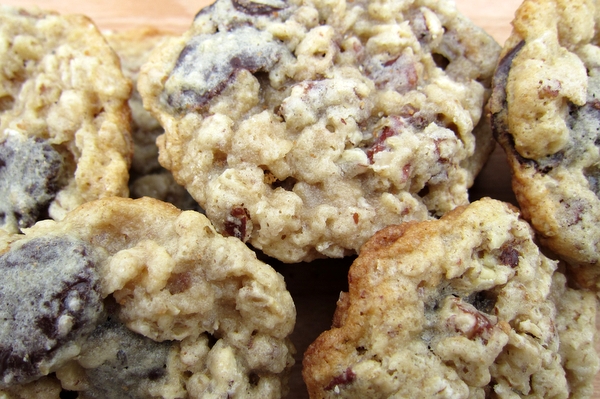 | | | |
| --- | --- | --- |
| Gluten-Free Chocolate Chip-Pecan-Oatmeal Cookies | | Print |
Ingredients
1 cup (2 sticks) unsalted butter, at room temperature
1 cup brown sugar
1 cup white sugar
2 teaspoons vanilla extract
2 tablespoons milk (skim is fine)
2 eggs
2 cups Cup4Cup gluten-free flour
1 teaspoon course sea salt
1 teaspoon baking soda
1 teaspoon baking powder
2-1/2 cups gluten-free old-fashioned oats (not instant)
10 ounces bittersweet chocolate chips
1-1/2 cups pecans, chopped
Instructions
Preheat oven to 350°F.
Cream butter with brown and white sugars in a mixer or by hand.
Add the vanilla, milk and eggs. Combine flour, salt, baking soda, and baking powder in a separate bowl; add to the creamed mixture and beat to combine. Stir in the oats, chips and nuts.
Refrigerate dough for at least an hour (or longer).
Drop each rounded scoop (don't flatten) of dough 1-1/2-inches apart on greased cookie sheets (or covered in parchment paper).
Bake for 10-12 minutes. Remove them from the oven when they look almost cooked as they will continue to cook a bit on the warm cookie sheet.
Let sit 3-5 minutes on the cookie sheet, then remove to cooling racks.
Notes
* These cookies are both gluten-free and wheat-free.
* I highly recommend taking the time to refrigerate the dough before baking as they will bake into a more "full" cookie – without refrigeration they will be tasty but flat. Gluten-free flour doesn't rise as much so this helps to compensate for that.
* I used
Cup4Cup
gluten-free flour and
Bob's Red Mill Gluten-Free Old Fashioned Rolled Oats
.
* Freezes well.