This salad is so easy to make and a big hit no matter what the venue. I know because I've served it a tailgate at a Bruce Springsteen concert and in a box at the Devon Horse Show (the largest outdoor horse show in the country). It would be equally suitable at home, bridal or baby shower, or a simple picnic.
The great thing is that you can make it in advance and serve it at room temperature. By using brown rice instead of pasta it's not only healthier for you but it's also gluten-free/wheat-free. You can vary the add-ins (olives, sun dried tomatoes, etc.) but don't change the dressing. The addition of the dill is really what makes this salad. I used a Vitamix for the dressing so it may be a bit more intensely green in color than if I had used blender or food processor but the flavor will still be the same. Omit the chicken (which makes it more of a main dish) and serve it as a side salad. While any feta will work, I highly recommend Valbreso a French feta made from the Lacaune breed of sheep.
Looking for a pasta version of this salad? Try my Orzo Dill Salad which is very similar.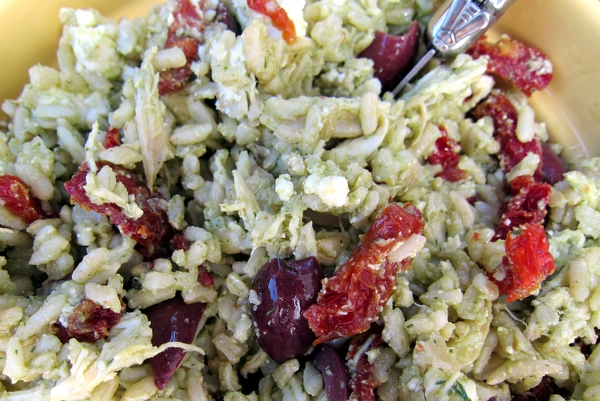 | | | |
| --- | --- | --- |
| Greek Chicken and Brown Rice Salad | | Print |
Recipe type:
Main Dish, Salad
Ingredients
2 cups brown rice (uncooked)
3 cups cooked chicken, shredded (from one rotisserie chicken)
2 small cloves of garlic
¾ cup dill, remove dill leaves from hard stems
3 tablespoons lemon juice
3 tablespoons red wine vinegar
¾ cup extra-virgin olive oil
6 ounces sun dried tomatoes, julienne cut
2 cups Kalamata olives, cut in half (lengthwise)
9 ounces Feta, crumbled
Instructions
Cook brown rice according to package.
Remove meat from chicken and shred.
Chop garlic in a Vitamix, blender or food processor. Add dill, lemon juice, red wine vinegar, salt and pepper and purée well. Add olive oil in a slow steady stream until dressing is emulsified.
Place rice a large bowl and toss with a tablespoon of dressing. Let cool.
Add chicken, sun dried tomatoes, Kalamata olives and feta and mix well.
Add remaining dressing to coat ( you may not need all of the dressing).
Season with salt and pepper.
Notes
* Measure two cups of rice before cooking.
* Rice soaks up more dressing than pasta so you may need to add a bit more to ensure that it's not dried out.
* I found French Feta (Valbreso) at Wegmans and it is already crumbled.
* You can make this salad the night before.
* This recipe can easily be cut in half or doubled.