I hadn't really thought about how much I missed tabbouleh until I saw this recipe. The main ingredient in tabbouleh is bulgur which is made from wheat so it's not an option for people who are wheat-free or gluten-free. For this version, I used hemp seeds which are not only gluten-free, but also a superfood.
I should clarify that eating hemp seeds will not produce any mood-altering effects. While both hemp seeds and marijuana derive from the Cannabis plant, the seeds do not contain THC, the active drug found in the leaf. So both you and your children may safely (and legally) eat this tabbouleh.
In just two tablespoons of hemp seeds, you'll find two grams of fiber, five grams of protein plus 25% of iron, 15% of vitamin-A and 6% of potassium daily requirements (at 90 calories and 6 grams of fat). It's a high-quality vegan protein with a balance of all of the essential amino acids. Not surprisingly, hemp seeds are at the top of the nutrient-dense food list. Bulgur can't compete at this level.
How do they taste? They have a bit of a nutty flavor but overall are mild. They add a nice crunch to this tabbouleh and would also be great sprinkled on top of a green salad.
The added bonus is that they don't need to be cooked making this the perfect warm weather recipe. The hardest part about preparing this is chopping lots of parsley and mint. While I served this as a side dish, you could make it a main course by adding some shredded rotisserie chicken. 
A primer on hemp seeds:  This recipe calls for shelled hemp seeds which is the same thing as hulled hemp seeds. Also, hemp hearts are the same thing as shelled or hulled hemp seeds. You can buy whole hemp seeds but shelled hemp seeds are milder in taste and pack more nutrients. Seeds don't last long, so it's best to store any leftovers in the refrigerator to prolong their shelf life.
Learn more about the wonders of hemp seeds in WebMD's Why Are Hemp Seeds Good for Me?
Thank you to Sarah Waybright of WhyFoodWorks for sharing this recipe with me.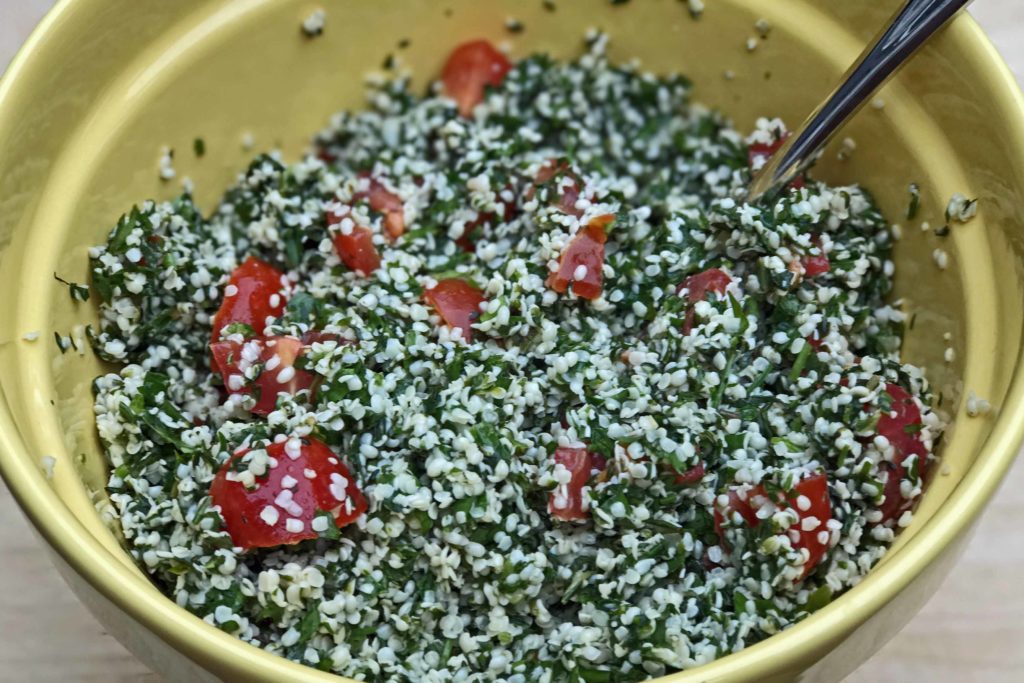 | | | |
| --- | --- | --- |
| Hemp Seed Tabbouleh | | Print |
Ingredients
1-1/2 cups (~ 9 ounces) shelled or hulled hemp seeds
¼ cup freshly squeezed lemon juice (~ 2 lemons)
¼ teaspoon fine sea salt
2 scallions (green onions), finely chopped
1 clove garlic, finely minced
2 cups packed fresh flat-leaf parsley leaves, finely chopped
1 cup packed fresh mint leaves, finely chopped
1 tablespoon extra-virgin olive oil
1 cup diced cherry tomatoes
Instructions
In a large bowl, mix together hemp seeds, lemon juice and salt. Add scallions, garlic, parsley, mint and olive oil. Toss to combine. Add cherry tomatoes and toss one more time.
Cover and refrigerate for at least an hour for the flavors to blend. Can be made 24 hours in advance.
Let sit out for 15 minutes before serving.
Source:  Variation on a recipe from Whole Foods Market