I recently made a day trip to New York City to have lunch with one of my oldest friends. Stefanie M and I have known each other since we started seventh grade at Immaculate Heart School in Hollywood, California, and let's just say that more than a few decades have passed since then. While we spent six years together in school we haven't been together much since I went east for college. She stayed in California but made her home in the San Francisco area.
Stefanie and her husband have twin high school boys and that's what brought her and a college friend, Lora B, to NYC. Stefanie's boys were singing at Carnegie Hall (how cool is that?).  While I wasn't able to join them for the concert I did enjoy a leisurely lunch catching up (and picking up right where we left off) with Stefanie and Lora at Stella 34 Trattoria in Macy's at Herald Square (good food and a fun view). During our conversation I learned that Stefanie had a very fruitful Meyer lemon tree in her backyard at home and she offered to send me some lemons if I promised to write a post about her (that might be a bit of artistic license).
Within a week I received the most amazing gift of 21 individually wrapped Meyer lemons. What a treat for this northeasterner after the winter we'd had. I washed them all immediately and put them in a bowl so I could both look at and smell (my whole kitchen smelled like lemons) them while I figured out what to make.
After looking at many recipes I settled on this cake as I thought it was a great way to showcase both the beauty and the flavor of these exquisite lemons. The tartness of the lemons balances the brown sugar nicely so it's neither too sweet nor too tart. There's nothing I'd change except for possibly serving it warm (I served it at room temperature) with some vanilla ice cream on the side. As the baker I was able to enjoy a bit of the warm brown sugar mixture as I was removing the cake from the pan (you need to do this 15 minutes after it comes out of the oven). This is a very forgiving recipe – I promise it will come out looking great.
While I used Meyer lemons (these are a cross between a lemon and an orange – but more "lemon-like") you can use traditional lemons or many other citrus fruits including blood oranges. Just make sure that the fruit is thin-skinned so the skin can soften while baking. I can't cut into a Meyer lemon without triggering an instant food memory of eating them fresh off the tree at my friend, Nancy A's house when we were little.
P.S.  I had enough lemons leftover to make 6 cups of honey lemonade for My Irish Honey Cocktails.
Gluten-Free/Wheat-Free Options: I used Cup4Cup gluten-free flour in place of all-purpose flour and it worked perfectly. There's no need to even tell your guests that the cake is gluten-free!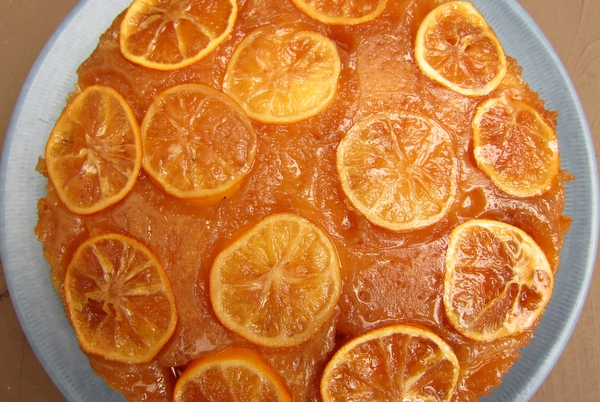 | | | |
| --- | --- | --- |
| Lemon Upside-Down Cake | | Print |
Ingredients
1-1/2 sticks unsalted butter (12 tablespoons), softened (divided)
¾ cup plus 2 tablespoons light brown sugar
2 thin-skinned lemons (Meyer or regular), sliced paper-thin crosswise, seeds discarded plus zest from 2 additional lemons (divided)
1-1/2 cups all-purpose flour or gluten-free flour (such as Cup4Cup)
2 teaspoons baking powder
¼ teaspoon salt
1 cup granulated sugar
1 teaspoon pure vanilla extract
2 large eggs, separated
¾ cup whole milk
¼ teaspoon cream of tartar
Serving suggestions: freshly whipped cream, vanilla ice cream or crème fraîche mixed with zest from one lemon
Instructions
Preheat the oven to 350°.
Set a 9-inch nonstick cake pan over moderate heat on top of the stove.
Add 4 tablespoons of butter and when it is melted, stir in the brown sugar until sugar dissolves, about 1 minute (it will be thick). Remove from the heat and using a rubber spatula spread evenly in pan.
Arrange the lemon slices on top of the melted butter-brown sugar mixture.
In a medium bowl, whisk flour, baking powder and salt.
In a large bowl, with an electric mixer, beat the remaining 8 tablespoons of butter with the granulated sugar until light and fluffy.
Beat in vanilla and egg yolks, one at a time.
Beat in lemon zest.
At low speed, beat in the dry ingredients in three batches, alternating with the milk.
In a stainless steel bowl, beat egg whites with cream of tartar at high speed until firm peaks form.
Fold one-third of beaten whites into the batter, then fold in the rest.
Scrape batter into the prepared pan and bake for about 30 minutes, or until a toothpick inserted in the center of the cake comes out clean.
Let cake cool in pan for 15 minutes on a cooling rack. Run a thin knife around the edges and invert onto a plate.
Serve warm or at room temperature with freshly whipped cream, vanilla ice cream or crème fraîche mixed with zest from one lemon.
Notes
* I used
Cup4Cup
gluten-free flour.
* You'll need four lemons for the cake plus an additional one (zest) for serving (optional).
* There's no need to butter/flour the pan since you're melting butter in the pan. I would recommend that you swirl it around so it coats the sides.
Variation of a recipe from Food & Wine